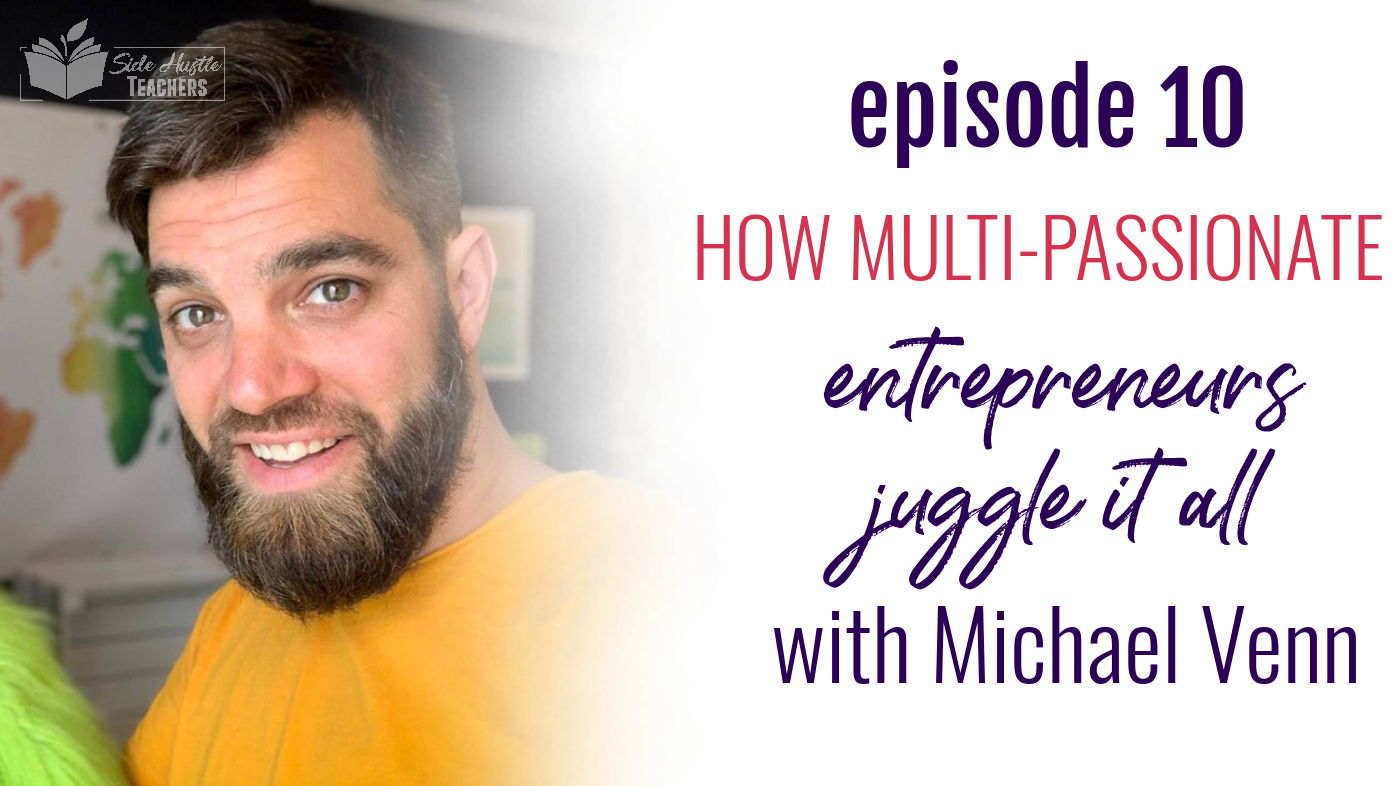 Today's Guest: Michael Venn, Multi-passionate Entrepreneur
Michael began his teaching career back in 2009 when he traveled to Italy to teach English as a second language. Since then he's been teaching off-and-on, sometimes as a teacher, sometimes not.
Nowadays Michael splits his work time between teaching ESL Online, working as a touring puppeteer, hosting tours on Air BnB, and creating videos for YouTube.
Summary
Michael Venn isn't a teacher in the traditional sense, but he is one at heart. With his background in drama, he's been teaching people throughout his career and isn't slowing down anytime soon.
He's had multiple side gigs, from teaching English oversees, to lemonade stand owner (this wasn't your neighborhood lemonade stand), to touring as a puppeteer, Michael has taken something from each of his experiences and learned how to spot opportunities many of us miss.
Key Takeaways
Opportunities are everywhere
Look on the periphery of what everyone else is doing and find your own niche
It's okay to let go of businesses for other, better possibilities
The skills you learn in one venture will stay with you in everything else you do
Connect with Michael
YouTube: https://www.youtube.com/michaelvenn
Instagram: https://www.instagram.com/teacher__michael/
Never be stuck for what to share on your blog, podcast, or video show again! In this 5-day challenge you'll create an idea bank to keep you creating for the next 6 months… at least!
This challenge mini-course is perfect for you if you:
Have been wanting to start a blog, podcast, or video show, but don't feel confident you have enough to share.
Have a business and want to start attracting more customers by growing your audience and authority.
Already have a blog, podcast, or video show and you haven't been consistent with creating content.