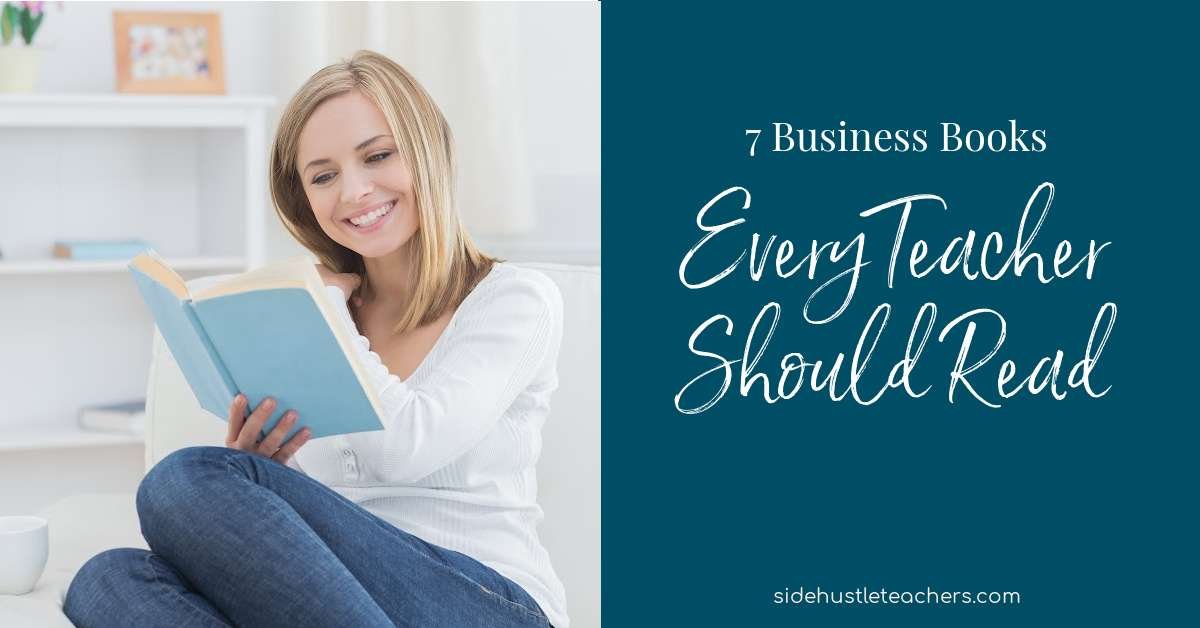 Every entrepreneur I know has a shelf full of business books, some better than others. So just in time for the holidays I've made a list of my favorite books that I recommend every edupreneur read.
This is the first finance book I read that actually made sense and was easy to follow. Mike gives step by step instructions on how to set up your business accounts to prevent surprise taxes, cover your expenses, and keep your accounts straight without complicated systems or spreadsheets.
Where Profit First really sets itself apart, however, is in its basic premise; Pay yourself first!
Most people define profit as: Income – Expenses = Profit. This makes sense on the surface, but there are some problems in practice.
Many businesses who use the traditional method of finance management never turn a profit because they take every penny they earn and reinvest it back into their business. This can breed resentment from business owners and their families because they work, and work, and work, without any financial rewards.
The Profit First system allows even brand new entrepreneurs to start earning money, building a sustainable business
I first discovered DDT when I found her earlier book, Get Rich Lucky Bitch, earlier this year. If you're looking to improve your money mindset, I recommend that book, too, but for entrepreneurship Chill and Prosper is where it's at.
The thing I love about Denise – other than her accent – is her dedication to making things easy. While her business is her sole focus, she is enthusiastically pursues ways to make life, family, and business effortless.
Denise speaks out against our hustle culture and suggests practical ways ordinary people can simplify their business while maximizing profitability. Her advice is exactly what teachers, who are already busy, need to hear in order to business that doesn't burn them out.
Note: DDT is a money coach for women, and her book is geared toward us ladies.
Have you ever read a book that was designed to help you create better habits, only to find yourself overwhelmed by the amount of work required to rearrange your life?
Me, too.
James Clear's book is the opposite of that. His approach to changing behavior is based on creating new habits and new systems a little at a time. Hence, the "atomic" in the title.
My favorite things about James is his way of explaining each step of forming a new habit in a way that seems achievable and his clear belief that success or failure in meeting a new goal isn't personal. It's a reflection of the system you have in place.
This book is extremely well researched and supplemented with personal stories of athletes, artists, business leaders, and others who've applied the Atomic Habits methods in their own lives.
Whether you've got a basement, attic, garage, or hard drive full of half-done projects (like me), or you just want to make sure you get to the finish line of building a successful business, you're going to want to check this book out.
I read Jon's earlier book, Start, a while back and, while I enjoyed it and recommend it, I've never had trouble starting projects – I'm a high Quick Start on the Kolbe assessment – but finishing them… yeah.
This book gives practical, actionable advice on how to meet your goals and never again abandon a project before you're done. Some of them may actually make you feel like you're cheating – but you're not!
And despite Jon's humorous approach to the subject, everything in Finish is based on research. So go git-r-done!
Donald Miller knows messaging, and is giving you all the good stuff in this book.
Based on the understanding that confused people don't buy, Building a StoryBrand helps you cut through the fluff and discover the heart of what you offer your customers.
Once you're clear on what you're selling – it may not be what you think – this book walks you through the seven universal story points, and how they apply to business, so you can craft a message that connects with your potential customers.
And when you purchase the book, you get free access to an interactive website where you can define your own story for your brand.
One of the biggest difficulties new entrepreneurs face is the feeling of Should.
As in, "I should be doing this, because others do it."
"I should be able to perfectly balance life as a mom and entrepreneur without any trouble."
"I should be further along in my business by now."
Instead of focusing on all the "shoulds," Climb Your Own Ladder gives you permission to be right where you are, and pragmatic advice on how to reach the next level – in your own time, and on your own terms.
Here's an unnecessary heads-up: This book uses curse words. A lot.
Moving on.
There are a lot of reasons I love and recommend this book. Probably the biggest is that Mark is a realist. He asserts that life can't always be sunshine and roses, and that the key to happiness lies in our acceptance of the shit as well as the shinola.
I try to practice optimism as much as I can, but let's face it; Sometimes being a teacher, an entrepreneur, or even just a human being sucks. Life can throw some massive turds at you, and it doesn't help to have people tell you to simply roll them in glitter.
The Subtle Art of Not Givng a F*ck helps you understand that there are only so many things you can honestly care about, so choose your f**ks carefully.
Get the Subtle Art of Not Giving a F*ck
If you haven't already, add these books to your Christmas list, stat. They'll transform your business and your mindset!