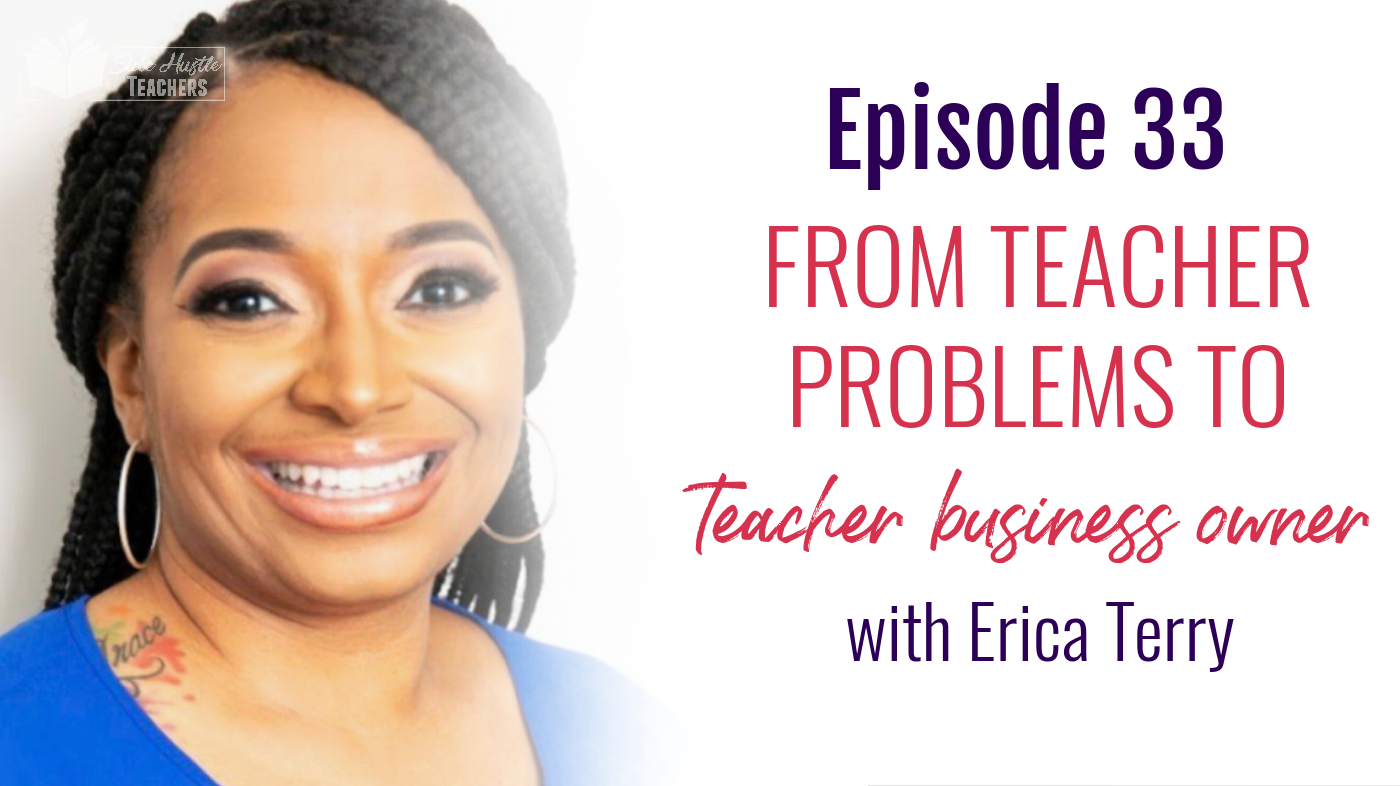 Today's Guest: Erica Terry
Erica Terry is a 17 year educator, who currently serves as a professional learning consultant and coach committed to empowering co-teachers to build collaborative relationships that include shared roles & responsibilities. In addition to her role as a consultant, she also is an edupreneur and host of the Classroom to CEO Podcast, where she equips educators to build an online business and create multiple streams of income. While empowering educators to create a life they love embodies her professional passion, her husband, Melvin and daughter, Eva are the driving force and greatest blessings in her life.
Summary
When Erica decided to start her side hustle journey, she first started with a blog. She wanted to talk about goal setting and personal growth, but she soon realized that she hadn't fully developed her idea, her focus, or her ideal customer avatar. Without those three key pieces, it was difficult to find an audience, so the blog didn't last very long.
Of course as side hustlers, we never actually fail, we just learn what doesn't work and do better next time. And that's what Erica did.
The next time she launched Erica thought about what her strengths were. How did her personal experience as a teacher set her apart from others? How could she use this experience to help others?
As a new teacher, Erica was placed in a classroom with a co-teacher. However, her co-teacher was just a few years away from retirement, and perhaps… not fully invested in the classroom. The situation was a struggle.
A couple years later when she was placed with a new co-teacher, she was able to build a much stronger professional relationship and create a cohesive bond that aided her, her co-teacher, and their students.
Drawing on this experience, Erica created a consulting company specifically designed to help co-teachers work together better. She provided professional training on how to co-teach and how to build a relationship in the classroom.
Through this experience Erica was able to master three tenants that trouble so many edupreneurs, including those with whom I work closely:
Identifying a specific problem

Defining a specific solution

Offering your solution to a specific group of people
Once she had a product to sell, her program for helping teachers work together in the classroom, Erica had to figure out how to get the word out so people could find her and hire her. So she did what so many are unwilling to do; she reached out to people she already knew. She leveraged the network she had spent years building to help her grow her new network.
She then started to reach beyond her comfort zone and to people she'd never met before to be on podcasts or speak at education events.
Erica admits that this was a big step for her, and something she had to mentally prepare herself for, but that the rewards of being featured on stage or on podcasts or as a guest blogger go far beyond the discomfort she felt sending a pitch. And like we say at my house, "If you don't ask, the answer is always no."
In the beginning she used her network as guinea pig audiences. She would provide her presentation for small groups in exchange for feedback on how to make it better. This way when she got on the larger stage she knew she was giving the best version of the information and could go on with confidence.
Erica says that her two biggest roadblocks to building her business were time and mindset. For teachers, time is always at a premium, so when you start a side hustle on top of teaching, it can become a bit of a juggling act for a while.
When it comes to mind set every entrepreneur will have to work through their own mental issues. Erica says one of her techniques for conquering mindset issues is to, "get off the island." If you want to be an entrepreneur, join groups for entrepreneurs, like Side Hustle Teachers. put yourself around people you want to be like, and reach out for connections beyond the teaching world.
Connect with Erica