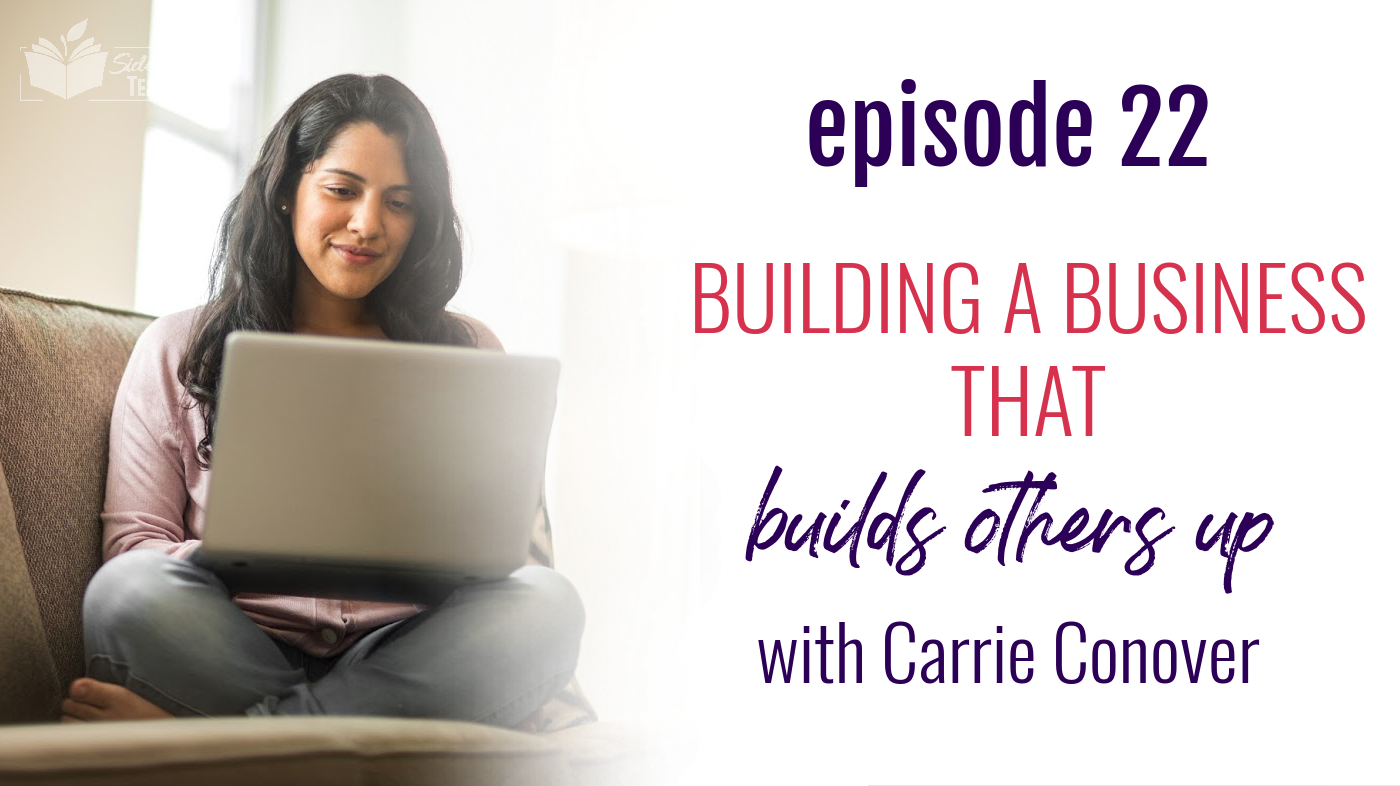 Often times teachers put off starting a business because they don't they're expert enough at all the things. The thing is that not only can you learn as you go, but there are ways to structure your business in a way that builds upon the strengths of others and, at the same time, raises them up.
Today's Guest: Carrie Conover, Founder e2e (Educators 2 Educators)
Carrie Conover has dedicated 19 years of her life to the field of education – first as a teacher in the Chicago Public schools, then leading educational technology learning initiatives and now as the founder of e2e.
Carrie established e2e to inspire, motivate and connect educators. She consults with schools and school districts, connects teachers and educators through e2e's online presence and speaks at schools and universities. Carrie quickly became an industry standout by combining her experience visiting hundreds of urban, suburban, and rural classrooms together with her ability to establish vision and implement strategies to achieve a common goal.
Carrie lives in the Chicago suburbs with her husband Brian and their children, Jacob and Emily. She's an avid Chicago sports fan and spends her free time playing tennis, cooking and watching her children do what they love.
Summary
Carrie Conover, like many edupreneurs, has had a long and winding road to find her perfect fit as an edupreneur. Starting out as an education consultant for the Chicago Symphony, moving into public schools, then into the education technology space, and finally starting her own consulting business to help public schools integrate technology into their classrooms.
Carrie started Educators 2 Educators as a way for teachers to share their expertise with other teachers, and as a place they could go to get useful, pertinent, self-directed PD so they could learn what they needed to, when they needed it.
These days e2e provides teachers ongoing support in professional development. And because Carrie chooses to keep the price low, at only $10 a month, teachers can easily afford to pay for their own membership, and districts are willing to pay for their teachers to be part of this group.
Additionally, teachers can choose to participate in e2e in two different ways; They can consume information and hone their craft, or they can present information as what Carrie calls the e2e talent. This tends to draw in a lot of teacher leaders, people who are taking on leadership roles in their school and are perhaps looking for a wider audience, more pure interaction, and even more support.
As time has passed Carrie has learned more and more about how to set boundaries with those around her, including her family, teachers, presenters, and private clients so that she can maintain her priorities – family always comes first. To do that she's had two discover for herself how to make the most of her time. By tracking when she's most efficient, and when she needs a break, Carrie's been able to come up with schedule that works for her and her family.
One of the things Carrie credits as part of her success is having had jobs outside of public education. Obviously it's not possible for everyone in education to go get a job elsewhere, however we can learn from Carrie's experience that whatever skills we don't already possess, whatever abilities we don't already have, the things that scare us about starting a business, are totally learnable.
Providing free content has been another way that e2e has become so popular amongst teachers. In fact, in any business providing free content and valuable information at no charge is key to building relationships with the people you hope will one day become customers. Carrie has actually had e2e for two years and is just now starting to ask members to pay for elite level access. The structure has allowed her to become known as someone who provides value and someone who is truly in it for the best interest of teachers, not just another carpetbagger coming in to take all our money.
In building e2e Carrie has come up with a structure that allows for teachers to learn from other teachers who have been-there-done-that, they get to share their own experience and finally see themselves as experts. Carrie does not have to create the content herself, saving a ton of time, and the content that is produced is even better because it comes from real teachers. She has truly embraced Pat Flynn's philosophy of, "What would this look like if it were simple?"
By allowing teachers to share what they are best at and what they're most passionate about, Carrie is free to focus on her strengths and interests. So when she does create content for the membership, it's content that is completely within her zone of genius.
Key Takeaways:
Build a community, provide value, then ask for a sale

Do one thing, master it, then do the next thing

Carrie recommends the Strengths Finder test and book, Building a Story Brand, and Profit First

You do you. You're not going to be for everyone, and that's okay.

Margaritas are good
Connect with Carrie