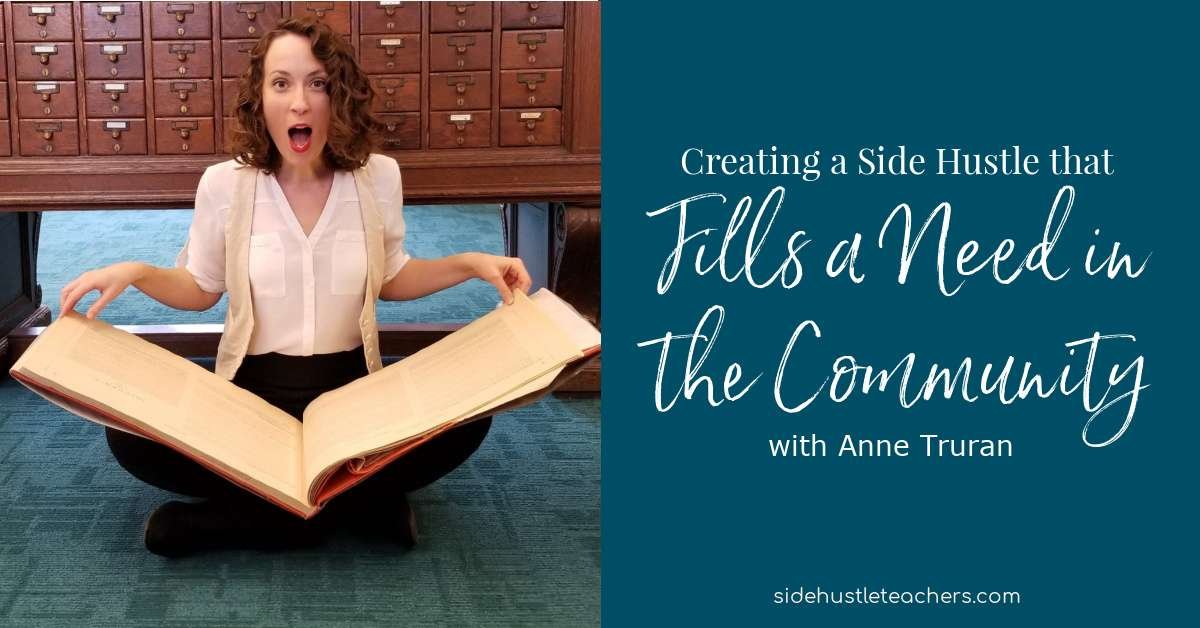 People often ask me what they should do as a side hustle. Today's guest, Anne Truran of My Bilingual Heart, found a fabulous answer to this question; Find a need in your community, and fill it. Her edupreneur journey started slowly, but with each step she gained more confidence and clarity in what her true purpose is.
Today's Guest: Anne Truran, Founder of My Bilingual Heart
Anne has worked in Title I schools for 10 years as a classroom teacher, interventionist, reading specialist, dean, and ELL teacher. The one thing all these jobs have had in common are that they have required her to speak AND teach in English AND in Spanish. Anne loves working with families from Latin America, in part because she has also worked in Mexico and Central America and was welcomed and embraced during her time there. Educating their children and serving their families feels like a way to pay it forward and make sure that their journey to this country and the lives they choose allow them to realize the dream of an excellent education for their children.
Summary
In her 11 years in education Anne has held a lot of different roles. But when she found herself in a position that wasn't a good fit for her, she started to struggle with how to leave this role behind and still be able to support herself. Ironically, though she was fluent in Spanish, she wrote off the idea of teaching Spanish because that was not her "area of expertise".
However after a few people individually asked and to help them learn Spanish as a way to better communicate with the families in their classes, she started to notice a need that she could fill with her unique skill set.
When a new position in the school became available, Anne enthusiastically took it on, but knew that she had to continue pursuing this idea of teaching Spanish, because it was not only a need in the community, it also brought her joy.
Her first client did not fit her ideal client avatar as it stands right now at all. He was a businessman who travelled and needed a basic level of Spanish in order to communicate in the countries to which he was going. But this experience was not wasted. It gave Anne the confidence and courage to begin to working with the people she really wanted to help; teachers.
The Experience not only taught her that she was capable of teaching Spanish, it also provided her with the time and space to think about what teachers need that other Spanish speakers don't. Vocabulary like "field trip," "report card," and "behavior" are things that teachers might need to communicate about on a regular basis, whereas the rest of the general population has no need for this particular set of words.
By developing this understanding Anne was able to create a learning experience that was not only unique and set her apart from other Spanish teachers, but it was also deeply meaningful to the people she was teaching.
Again taking her time to truly find her market Anne offered a one-time free workshop to people who had expressed interest in her not yet formed business, and used the workshop as a way to propose and confirm her idea for an in-person course.
As her business grew and her clients became more confident in their ability to speak Spanish, and realized that through her role in her district she could provide her private clients with more opportunities to use the knowledge they were building, overcome some anxieties they had about speaking with native Spanish speakers, and build relationships with the families in their community.
The biggest stumbling block Anne found as she walked the path of edupreneurship was her own self-doubt. Though she knew she had something of value, and that she could contribute to a greater community, there was still a little voice telling her to keep quiet. Thankfully she ignored that little voice and put her ideas into the world, and what she found was an amazingly supportive group of people.
Key Takeaways:
The first step you take doesn't have to be perfect. It just has to be a step.

Find what you can offer that is not only unique, but also deeply meaningful to those you intend to work with.

Let your audience tell you what they want.

You business and your day job can build upon each other, in a symbiotic way.

Be honest, be open, and be vulnerable with your community.

Business can be fun!
Connect with Anne