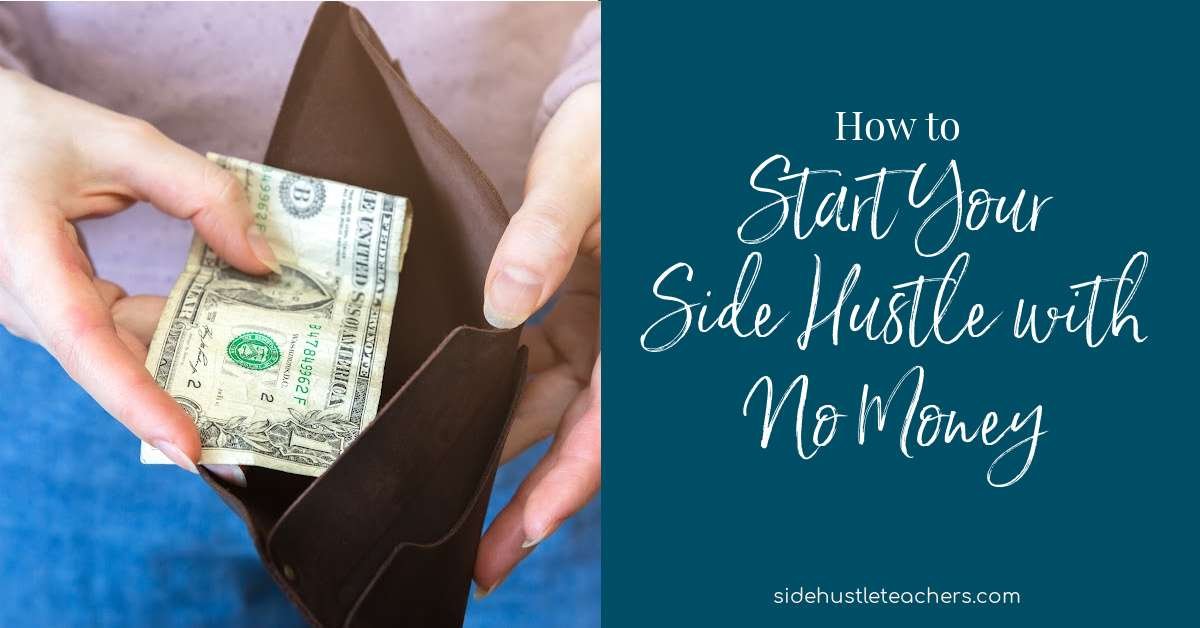 If you've been wanting to start your side hustle, but are worried that you need a stack of cash to get going, this is the episode for you!
In a perfect world every business would be able to start with a healthy flow of capital, a staff full of capable people, and a plethora of assets like a bright shiny website.
But the reality is that most of us are starting out with little-to-no money and we're starting from scratch, doing everything ourselves.
Here are several helpful hints on how to start your side hustle when you don't have money to begin with.
Make Use of Social Media
I am a big proponent of having your own website – owning the land you're building on – but I also believe that starting where you are is better than waiting for perfection. So if you are hesitating on starting your business because you don't have the time to get a website up and running, start with social media. There's several advantages: it's free, it's easy, and it helps you get a sense of what you want to do and who you want to help. If you're not sure what you're wanting to do still, look at this as an experiment, or test run.
Utilize the Free Tools Available to You
There are tons of free ways to get yourself going
You want to start a podcast? Anchor is a free app for your smartphone.
Are you wanting to be in coaching and need to schedule when people are going to be meeting with you? Acuity has the tools to help you with that. This could be a great tool for scheduling consultations or podcast interviews too. They have a great free level of service to begin with.
ConvertKit is an email managing service that I use and they have a free level as well so you can start collecting email addresses and so on.
Want to start a blog? WordPress has an entry level as well for you to just get your content out. WordPress.org is where you'll want to start if you plan on monetizing your blog, but I won't get into all the ins and outs of that.
If you're going to want to offer courses, MemberVault is where I keep all of my courses and offerings and they have a level of service for those just getting started as well.
Overall keep in mind that many services offer free versions with a pay upgrade or free trial periods for you to test them out. Look for these free or super cheap things as a means of saving money to start with.
Focus On Doing One Thing Well
Focus on doing one thing well and not a hundred things poorly or mediocrely. Many beginning entrepreneurs try to take on too much, (I touched on this back in Episode 32) but in reality it is so much better to focus and hone your skillset into being great at one thing instead of trying to wear a million different hats at the beginning.
The problem is we listen to podcasts, read magazine articles, watch youtube videos and everything sounds like such a good idea and so…essential, especially when it's people selling courses or services. But if your goal or your "one thing" at the moment is just building a facebook following, a super spiffy website or fancy logo can wait. Work on your one thing.
Pre-Sell
Create an offer and sell it before you actually create it. See who's interested and you can even record the content you're offering live and resell it later. This also brings in money before you spend it. You'll know what you have to work with and can budget from there and invest. Also important: use the tools you already have instead of investing in new ones.
Think Like a Teacher
Teachers know how to be scrappy in the classroom, but for some reason think we need all the things to run a business. Instead, think of your business like a lesson you want to teach, but don't have the funding for. Get creative!