Our Mission to Empower Educators
We help educators take control of their financial future by
building a sustainable income stream through blogging.
Here's What I Know…
While supervising

clubs, coaching sports, or advising student activities are options, those side hustles often take up a lot of your time for little pay.

When teachers blog regularly, even when their blog isn't about education, your students benefit.

Every teacher should give yourself an hour a day to do something that lights you up.

If you can handle a 21st century classroom, you can handle the tech of a blog.
Why Blogging?
Teachers have an infinite number of choices when it comes to side hustles, so what make blogging so perfect for teachers?
Blogging is the only business has all 4 qualities of an ideal teacher side hustle:
Allows for flexible hours

Utilizes your teaching skills

Lets you be your own boss

Provides multiple streams of income
Where do I start?
If you're new to blogging, check out these blogcasts for first steps you can take to get started.
Be Part of the Community
In the Side Hustle Teachers Facebook group you'll find like-minded people who are in all stages of building a business. As a member you're welcome to ask and answer questions, engage in prompts to grow your blog, and find kindred spirits who truly understand the path you're on.
Join Here
Enroll for Free!
Never be stuck for what to share on your blog, podcast, or video show again! In this 5-day challenge you'll create an idea bank to keep you creating for the next 6 months… at least!
This challenge mini-course is perfect for you if you:
Have been wanting to start a blog, podcast, or video show, but don't feel confident you have enough to share.
Have a business and want to start attracting more customers by growing your audience and authority.
Already have a blog, podcast, or video show and you haven't been consistent with creating content.
Meet the Teacher behind Side Hustle Teachers
I'm Stacey! Teacher, mom, and blogger. I started my blogging journey in 2012 and now I'm on a mission to help other teachers discover the joy of earning passive income through blogging.
I've been teaching for 20 years and understand the challenges that come along with being an educator with a side hustle. I created Side Hustle Teachers to be the go-to place for teachers who want to make money outside the classroom without burning themselves out.
Welcome!
Stacey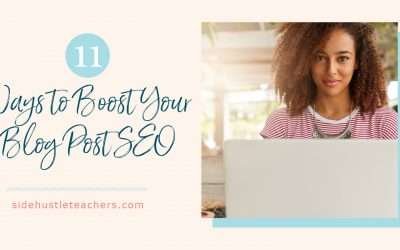 SEO, when implemented properly over time, can provide a major boost to your blog traffic and your overall income. For each blog post you write, you need to have a clear, repeatable, SEO process to make certain that you're maximizing search engines. Follow the steps...
read more