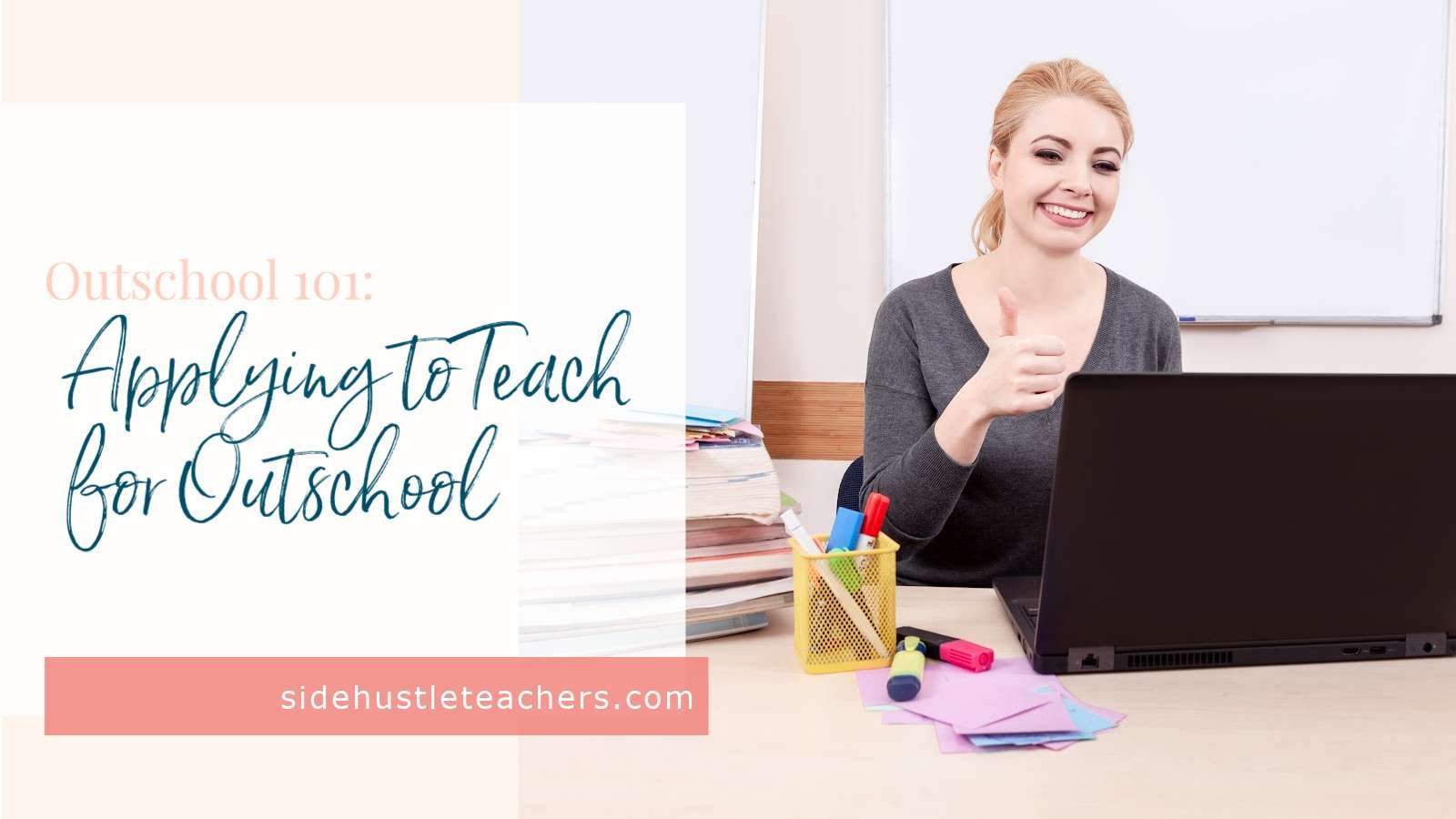 The application process for Outschool is very easy and straight-forward, though it does take a few days.
Step 1: Apply
Questions you'll need to be prepared to answer include:
Your full name
Phone number
City, State, Country
Any experience you have with children – professionally or otherwise
What topics you are passionate about teaching, and your experience with each
Your academic degree, including the institution and year, and any teaching certifications
Finally, you'll be asked to submit a 30-90 second video, filmed in the space in which you'll be teaching. You can use the recorder provided by Outschool or you can record a video on your own and upload it. The video serves as an introduction and a way for the folks at Outschool to see how you are on camera. You can explain why you love to teach, teach something new, or even tell a joke!
Before you hit submit you must confirm your email address and agree to the terms of service. You might need to refresh the page for the system to recognize that you've confirmed your email, but don't worry, everything you've typed will be saved (something I learned from personal experience). Click SUBMIT APPLICATION.
Then you wait.
In the meantime, you can join the Facebook group for prospective Outschool teachers, begin completing your teacher profile, and start setting up the classes you plan to offer. You can't submit the classes for approval until you're officially accepted as a teacher, but having the class ready to go means less time you have to wait until you start teaching and making money! Just save the classes as drafts and wait for your approval.
It took 6 days for me to be notified that I was approved to move on to the next step.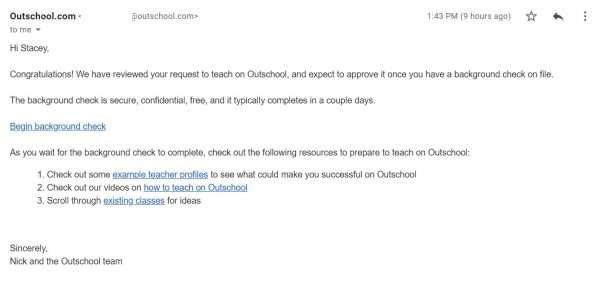 Step 2: Background Check
Once you get the Congratulations email, it's time to begin your background check.
Outschool uses a company called Checkr to do their background research and the process is pretty quick and painless. You will need to provide your full legal name, including your middle name, as well as your social security number.
There are lots and lots of terms and conditions to agree to, and you should read them. They explain what Checkr will be digging into and what your rights are in terms of transparency, etc. When you submit your consent it is a legal document.
Then you wait… again.
My background check took 4 days, though I've heard others took 45 minutes and still others took a couple weeks. Now, on to…
Step 3: Create your first class
To prevent confusion and overwhelm, Outschool only allows a newly accepted teacher to submit 1 class for approval to begin with. Once that initial class is published there are no limits on how many classes you can submit for approval, or the number of different subjects you cover. Some teachers stay within the same subject area, while others teach a multitude of different topics from gaming to cooking to music to math.
As mentioned in the previous post, classes must be objective, secular, age-appropriate, and sensitive material must be noted up front. Your class can meet a single time, multiple times, or be an ongoing class that students can join and drop at will. Outschool also offers flex classes, that is classes that are pre-recorded rather than being taught live, once you've successfully taught a live class.
Writing a class plan for Outschool has some similarities to writing lesson plans for school, but also some notable differences. It's worth pointing out that it's often parents who are choosing classes for their children, or they do the initial selection and let the child give the final yes or no, especially for younger children. Knowing that, class descriptions should be written for parents, but easy to understand or explain for kids.
Here's what your class needs to be approved:
Title – A class title should help a parent (or student) clearly understand the main idea that you'll be teaching. Overly clever, or clickbait-like titles will not be approved.
Photo – Give prospective clients a visual representation of your class with a thoughtfully chosen (or created) image. You can use free sites like Pixabay or Unsplash to find royalty-free photos, or if you use a graphic creation program like PicMonkey or Canva, you have access to their library of professional stock photos or can create your own.
Summary – Your summary is a brief, 1-2 sentence description of the class. Shown on the search results page, the summary should clearly lay out what your class is all about.
Age Range – A single class can serve an age range of up to 5 years. If you want to teach the same content to younger or older students, you can create different classes for each.
Meeting Frequency – How many times and over what length of time will this class meet, and for how long? (e.g. Meets for 1 hour, twice a week for 4 weeks.)
Class Experience – In this section you outline exactly what students will do and learn in your class. Suggested items to include in this section are:

What will be taught? What topics will you cover? How is your class structured?
How will you teach? What's your teaching style? How much will learners get to interact with you and each other? Mention specifics like: lecture, games, slides, video clips, discussion.
Any required experience or knowledge that learners should have

Class Size – Select the minimum number of students you will need to run the class as well as the maximum number allowed.
Price – How much you charge for your classes is entirely up to you, but remember that Outschool keeps 30%.
The following items may be needed to get your class successfully approved:
Sensitive Topics – If your class contains material or deals with a subject that may be sensitive to some, you must complete this section so parents are aware of the topics prior to enrolling their child.
Parental Guidance – This section must be filled in if your class deals with sensitive topics, uses potentially dangerous materials (i.e. chemicals, tools, etc.), or if you're using any outside media like video games, movies, or tv shows (give the rating).
Learning Goals – An optional section where you may outline what students will take away from your class.
Homework – If given, note how many and what kind of assignments students will be expected to do.
Assessment – What kind of assessment tools you will use and how progress will be noted (i.e.letter grades, standards, etc.), if applicable.
Teacher Expertise – In this optional section you can present your professional or personal experience that makes you a great teacher for this class.
Materials – If students are required to have any specific materials – books, programs, or tools – you must note them here.
External Resources – List any outside websites or programs students will be using in the class, if any.
Outschool provides a comprehensive outline of all requirements here if you'd like to read more about them.
Once your class is approved you can publish it, making it available for learners to sign up. You may then submit any other classes for approval as well. It's important to note that every class is submitted for approval, but once it's approved you may run that class as often as you'd like. My first class took 2 days to get approval.
Congratulations! You're now an official Outschool teacher!