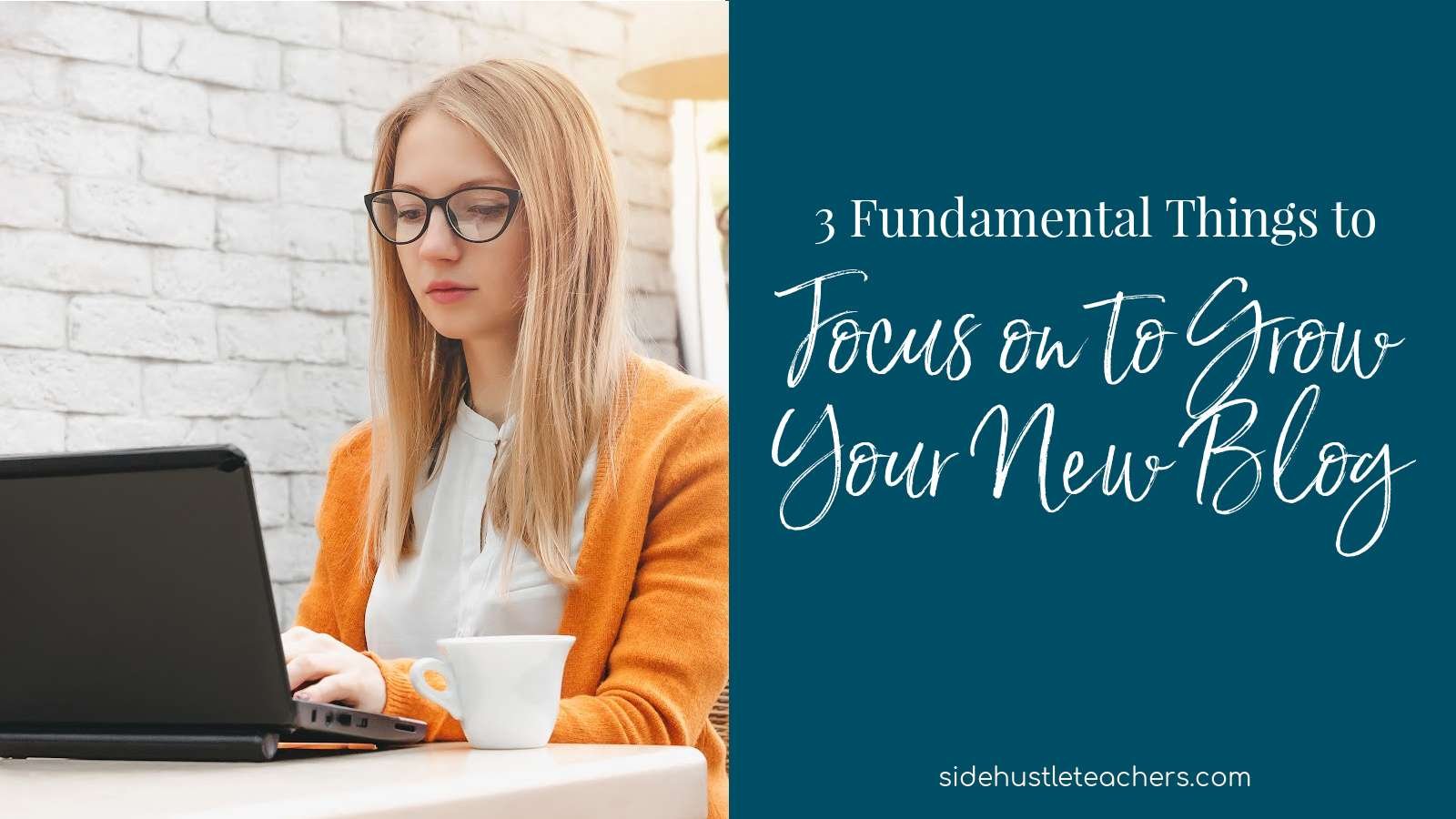 A blog is a really great entry point into the world of online business. It's got a low barrier to get started, and literally anyone with internet access can do it.
But you're not just anyone. You're a teacher. And if you're going to do something, damn it, you're going to do it right.
And this is exactly what keeps so many teachers from starting their blog.
There's an expression of unknown origin that Gretchen Rubin popularized in her book, The Happiness Project, that is quite apt for this situation;
The perfect is the enemy of the good.
No doubt you've read about blogging (hello!), watched YouTube videos, or listened to podcasts, and you've discovered that there's more to a blog than slapping up a website and shoving out content.
In fact, learning about blogging can take you down quite a rabbit hole…
It can lead to procrastilearning or educrastination and prevent you from ever getting started. I wrote about that a while back, and you can read Why Teacherprenuers Should Stop Learning and Start Doing here.
But that still leaves you in a bind. You still have all this information and according to internet expert A and blog guru B, it's all important.
Well, it is.
But it doesn't all need to be done right now.
It took me years to get my first blog to a place where I felt like all the pieces were in place and working in concert. But even though it was far from perfect, it was good enough to start making money for my family.
Instead of trying to do everything, focus on the things that are going to become the foundation of your blogging business. Worry about the rest when these pieces are not only solid, but systematized.
So, what are the three things you should focus on?
Let's dig in!
Content Pillars
If your blog niche is kind of like the subject you teach, your content pillars are the 4-6 units you'd break that subject down into for a particular course.
Content pillars are a great way to narrow your focus so that you can become a go-to resource for one specific niche.
For example, you might be a certified family consumer science teacher (home ec to us golden oldies). You can teach a variety of subjects, but if your course is an intro to cooking class, you're not going to be teaching sewing patterns, money management, or even how to keep your souffle from falling. Because those things are what students in that course are looking for.
Similarly, your blog may be about gardening and your niche is people who want to learn how to grow their own food. Your content pillars would reflect the 4-6 big ideas that that audience would be interested in.
The important thing to keep in mind is that aaaaaaallllllll your content, especially at first, needs to fit clearly into one of your pillars. When you stray from your pillars, you confuse your audience. And as Donald Miller says, "When you confuse, you lose."
Read more about content pillars here.
Purpose
If your blog's purpose is to make money, then the content you create needs to be developed with that purpose in mind.
While your blog can, itself, make money (through ads, affiliate links, etc.), it's also your biggest marketing channel. This is true whether you're selling products, services, or digital downloads. It's also true if you don't sell anything yet and you're just trying to build up readership.
Your blog is a marketing channel for your blog. It's very meta.
Create your content to do one of three things:
Build authority. Help your readers see you as a go-to source for your topic.
Strengthen relationships. Get to know your audience, and let them get to know you as a real person.
Actively sell. Done least often, your content can be a direct conduit into your sales funnel or an affiliate sale.
For more on the primary purposes of your content check out 3 Content Purposes: Making Your Content Work for You.
Email List
Many beginning bloggers neglect this step and regret it later. Your email list is the lifeblood of your business. It is not controlled by an algorithm. It is not subject to being closed at the whim of a giant corporation.
It is yours.
And that is a very special thing in the world of online business.
To get people on your list you're going to have to offer something in exchange, but it doesn't have to be anything huge. In fact, if you offer something too big as your email optin, it can scare people off.
So think simple, straight-forward, and something that will give your new email list member a quick win.
I did a Facebook Live on this a while back, which I encourage you to check out. It's 5 Types of Freebies You Can Offer in Exchange for an Email Address.
To manage reader emails (and not violate FFC regulations) you're going to need to sign up with an email service provider. The one I use and recommend is ConvertKit. They even have a free plan for those not quite ready to invest.
Once you get someone – yes, even one person – signed up, you want to send out emails weekly. It doesn't have to be much. Just a quick, "Hey, did you see the new blog post? It's about X and you can read it by clicking here," is enough at first.
If you focus on these three things, your blog will grow.
Spend your time creating great purposeful content that clearly fits in your content pillars, and include a call to action to join your email list in every. single. post.
Blogging can be complicated, but it doesn't have to be. That's a choice.
Don't let your desire for your blog to be perfect, and have all the bells and whistles, prevent it from being good.
And now you can generate 6 months worth of blog post ideas in the FREE 5-Day Content Challenge. Never be stuck for what to write about, and publish great content with purpose every week. Click here to enroll for free!