It's easy to dismiss the choice of hosting companies for your blog as an unimportant decision. On the surface, all hosting companies seem alike. Isn't one just as good as another?
In a word, no.
Your blog host is one of those behind-the-scenes tools that you don't want to have to think about – but if you don't choose the right one, it will be a constant thorn in your side.
What is a WordPress host?
WordPress is an open source website system that is used by more than 40% of all sites on the internet today. And it's popular because it's awesome.
Open source means that WordPress itself is free to use, and you can change, edit, and customize it all you want for no charge!
However, in order to get your WordPress site online for everyone to see, you need to purchase hosting through a private provider.
There are tons to choose from, but they aren't all created equal.
If you think of your website as a house you're building, the host you choose is the land you're building it on. And what's the number one rule of real estate? Location, location, location!
Just like when you're searching for a location for your home, you want your website to be in a safe place that has a good reputation, one that's easily accessible so you can get there fast, and is in a supportive community where you can get help when you need it.
So here are 5 questions to ask when you're trying to choose the right host for your WordPress website.
1. Do they have a plan to suit your current and future needs?
Some companies offer many tiers of pricing, while some offer just a couple. Before you sign on, take a look at the options and whether or not there are low-cost choices for newbies as well as plans that will grow with you.
Another thing you want to check is the features that come with your plan. A good hosting company will offer all the essential features in all plan levels, with the primary difference in service being the amount of traffic your plan can support and the amount of storage space you have. If a company forces you to upgrade in order to get basic service features, like customer support or an SSL certificate, keep looking.
SiteGround, the company I use and recommend, has 3 tiers of pricing that are appropriate for new sites all the way up to 400,000 pages views per month. (If or when you need more than that, they'll create a custom package.) Each plan offers the same features, but main differences are the number of websites you can host, the storage space available, and the traffic each level can handle.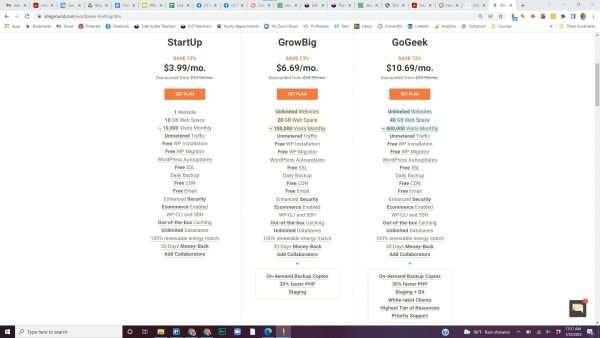 2. Do they keep your site secure?
The security of your blog is essential to its success. Without a secure site, some browsers or private firewalls won't let potential readers go to your site, which obviously is not what you want.
How do you know if a host is going to provide a secure connection? Look for something called an SSL certificate as part of your hosting plan. Some companies, like Siteground, offer this for free, while others charge for it.
When your site has an SSL certificate, short for Secure Sockets Layer, you'll see an "S" in the scheme of your web address. If that's too techy for you, here's what that means: The beginning of your URL will switch from http:// to https:// like you see on Side Hustle Teachers, Target, and Wikipedia.
That one letter is what tells browsers and firewalls that your site is safe.
If you're planning on selling goods or services on your blog – and your website is going to manage the transactions – you can purchase an additional SSL certificate for financial security. However, if you're only hosting a blog, or your products are sold through a 3rd party, like ThriveCart or your direct sales company's site, the extra SSL isn't necessary.
3. Will your site load quickly?
When it comes to websites, speed matters.
In this day and age of instant gratification, people aren't going to wait around for your page to load, so you need to make sure that your blog host is built with speed in mind.
There are a number of ways that hosts can support site speed.
First, hosts that use a worldwide network of servers provide faster load times because the information is physically stored closer to individual users. This can get your page loaded seconds faster, which in the digital age, is an eternity.
Some hosts also include optimization plugins to users that will help pages load faster by prioritizing information and images.
Siteground has partnered with Cloudflare to store your blog in more than 150 locations and has a proprietary plugin called SG Optimizer that speeds up page load time. Both are included in all pricing tiers.
4. Do they have features that make life easier?
A website has a lot of moving pieces to it, but there are some hosting companies that make it easier to get set up and manage on an ongoing basis.
Some of the things Siteground provides that make blogging easier are:
Domain Registration

– because I get my domain names and my hosting through the same company I not only get to deal with just one company, but when there are updates to WordPress, my hosting, or the servers, Siteground handles it and all the peripheral updates.

Website Migration

– if you already have a website and you want to transfer it to Siteground, they have a free service that will move it for you.

WordPress Installation

– when you purchase a managed WordPress hosting plan, Siteground will automatically install WordPress on your site, saving you a step!
24/7 Customer Support – with a real person. This has saved me more times than I can count as I built, transferred, moved, and sold multiple websites over the years. A reputation for quality customer service is a must.
5. Does the price fit your budget?
Web hosting comes in all sizes and price ranges. You can pay a few dollars a month or a few hundred dollars a month. You want to find a plan that fits your budget while providing all the features you need.
Many hosts also offer massive discounts to new customers at sign up. But be sure to look at the length of the contract before assuming it's a great deal, though. For example, while Siteground offers a rate of $3.99 per month, A2 offers $2.99 a month. However, with Siteground the lowest rate is available to those who pay up front for a year, making your up front investment about $50. To get the lowest rate with A2 you must pay for 3 years in advance, making your initial investment over $100.
My recommendation
You might notice I'm a big fan of Siteground
I started my first blog with Siteground in 2012 and I've never even considered leaving because the price, features, and services are fantastic. So, while you're welcome to look around at the various options, if you just want a quality, reliable hosting company with outstanding customer service, just go to Siteground.
And if you want someone to walk you through the setup of your domain and hosting, plus WordPress and your site theme – all the tech stuff you don't need to be scared of – grab my free guide, 5 Steps to Start Your Blog Today!