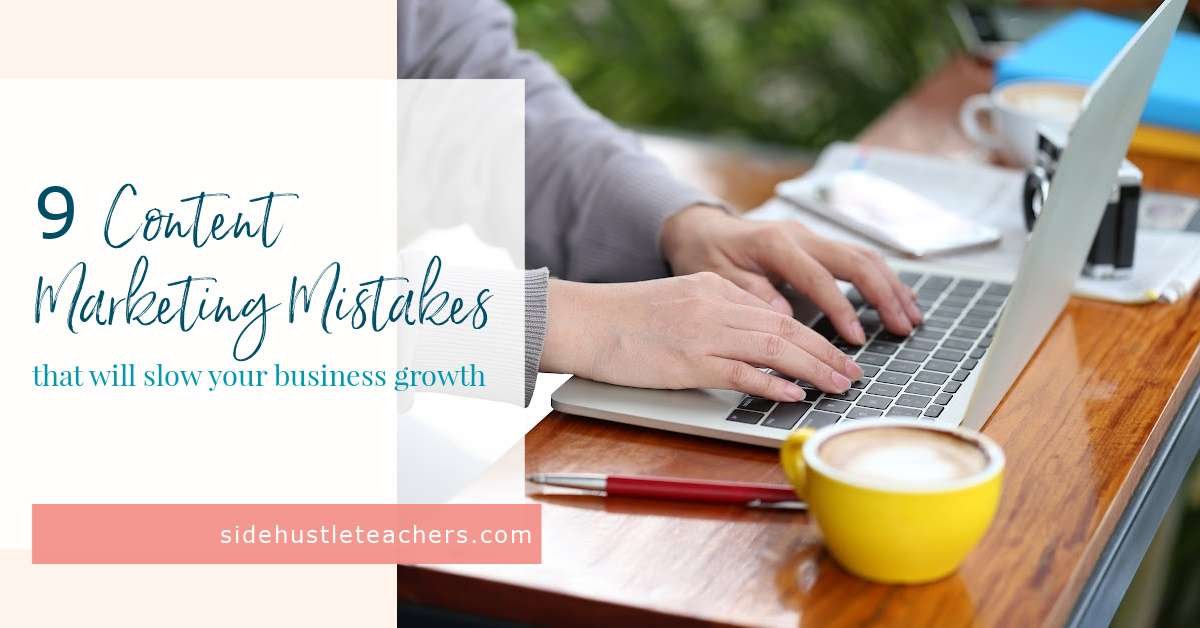 Content marketing, using a blog, podcast, or video show to attract customers, is one of the best ways to grow your audience, build your business, and make more money.
But, like most other things, there's a right way and a wrong way to use content as a marketing tool. Ask anyone who's been blogging, podcasting, or YouTubing and they'll tell you that they've all made mistakes along the way.
Honestly, you're going to make mistakes, too.
If you don't make mistakes, you're probably not trying very hard.
But you don't need to make all the mistakes, so let's see if we can find a way to sidestep some landmines. Keep these common mistakes in mind as you create your content and review some of your old posts to see if there's something that needs to be updated.
Not having a plan
Just like in your classroom, when it comes to content, you have to have a plan. You may not have every single step planned out in advance, but you know what your goals are, and each blog post, podcast episode, or video show should be moving you toward that goal.
So let's talk about the 3 primary purposes of creating content and what it would look like to create content for that purpose.
Build authority: Establish yourself as an expert with information about your topic, how-to, explanations, etc. This helps you become the person your audience thinks of when they have a question or problem about your area of expertise.
Strengthen relationships: Let your audience know that you understand them, care about them, and (if it's true) have been where they are now. People buy from people they know, like, and trust, and you can't have any of those things without a relationship. Tell stories, let people behind the scenes, and give them a glimpse into you.
Sell a product or service: Technically, everything you create is to help you move towards a sale, but some content is more explicit in its purpose. Content that sells is very purposefully designed to help people see your expertise and the value in your product or service. This might be a podcast episode about how to interview and hire a VA, or a video episode about the myths about using CBD oil.
Not knowing your audience
When you speak to everyone, you speak to no one. Yet a common mistake of new content marketers is trying to reach everyone.
Instead, write your posts for a specific person; your ideal customer.
Could everyone use great, quality cookware? Sure. But a post about 5 tools that will help busy moms get dinner on the table is likely to have more success than one that speaks about 5 kitchen tools everyone should try.
Posting and running
Once you create a piece of content, you can't just post it on your website and hope people find it. SEO is an amazing thing, but you need to help it work.
You need a distribution strategy to make sure that your content is seen by those who need it. That means you have to share the posts on social media, and give others a way to share them as well. Identify 1-2 social platforms that you will use and decide on what days you will share your new content.
Quantity over Quality
Producing content is a must, but that content has to be useful and of good quality. It's better to create 1 fabulous, incredibly helpful piece of content than 5 meh ones. When you decide how often you're going to put out a new post or episode, take into account how long it takes you to produce high quality content.
Sharing inconsistently
It's hard to become a fan of someone who only shows up occasionally.
If you want to turn people who happen to stumble upon you into rabid, raving fans, you've got to keep. showing. up. That means posting regularly, sharing (and resharing) your content, being present for your followers, and staying consistent for at least a few months before you change a strategy.
Not giving content strategies a chance to work
Great content can have a massive impact on your business, but it's not going to happen overnight. If your first posts don't go viral, keep going. Even great content takes time to be found on the internet.
We also know that one of the benefits of using content to attract customers is that your posts or episodes can be found forever once they're published. About 30% of the traffic to Side Hustle Teachers is coming from posts or podcast episodes published at least 3 months prior.
In other words, be patient.
Trying to do too much at once
Trying to do too much too fast is a sure path to burnout. When I first started blogging I put out posts 5 days a week. It was overwhelming (not to mention it wasn't stellar content) and I realized that I wasn't going to be able to keep up that pace for long.
These days we also have a growing list of social media networks that we "have to" be on, and we're on the road to exhaustion.
Instead of trying to be posting all the time in all the places, focus on growing one primary platform, like a blog, podcast, or a video show, and 1 or 2 secondary platforms, like Facebook or Instagram. Once you build an audience and, most importantly, develop a system for crafting and distributing your content there, you can add something else.
Always going for the sale
Content is a fantastic marketing tool, but no one wants to read a 1,000 word advertisement. Even your sales content should be helpful to your audience, and it should match the tone of your other content.
If you're only posting about the spring collection that's now on sale, or your new program for sale, or the 30% off you're offering on essential oils it isn't hard to wonder why no one wants to read it.
Not enough you in your content
Your audience wants to know you so be sure to infuse your personality in what you share. If you're someone who drops an occasional f-bomb, go for it. If you absolutely love Stranger Things, go ahead and let your audience know you can't wait to find out what happens to Hopper in season 4.
Side Hustle Teachers began because I wanted to be able to use all my classroom jargon, experience, and know-how in my business coaching!
Join me on Tuesday at 7:30 pm (EDT) in the Side Hustle Teachers Facebook Group for a LIVE recap, answers to your questions, and examples of the 3 types of purposes for content! A replay of the video will be posted below the Friday after the live. ↓↓↓
Watch the Facebook Live replay here.