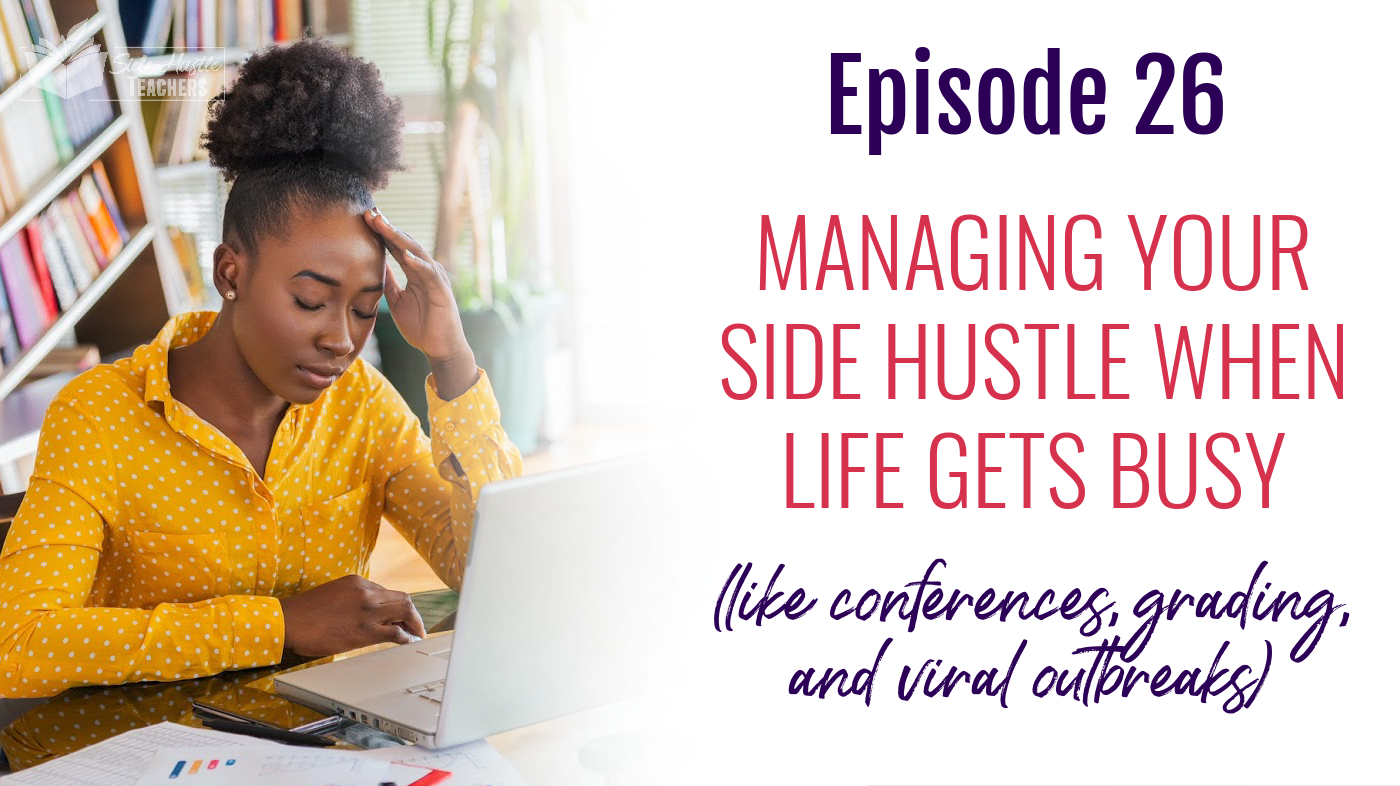 Teachers have a lot going on in the best of times. So what do you do during especially crazy times happen; like parent teacher conferences, grades are due, or there's an unprecedented pandemic on top of everything else?
You're a busy teacher, working all day and hustling at night and on the weekends (and in the morning, and at lunch…). You've got a handle on things – or you're starting to – and then a school or family obligation pops up and throws you completely off your routine.
What's an edupreneur to do?
Mark your calendar
Sure there are things that crop up at the last second and spoil all our well-laid plans, but many of our extra busy times are planned in advance. So make sure that as soon as your school puts out its calendar, you add all the important dates to your own family calendar.
Make note of things like the ends of grading periods, when you know you're going to have to enter grades and comments, parent-teacher conferences, when your Honors English papers are due… you know.
Do the same for family commitments, too. If you know your kids have the school play every year, which means you're going to be busy painting sets and sewing costumes, block it off. If your partner or spouse is going to be traveling and you're solo-parenting while they're gone, block it off.
Plan ahead.
When you think about your business, plan for at least 90 days at a time. Some podcasts or business coaches talk about 1 or even 5 year plans, but as a new entrepreneur 90 days is a more reasonable amount of time. 3 months lets you plan ahead and work around things that are coming up, but still doesn't put too much pressure on you to know what's going to happen in the future.
Look at your calendar when scheduling launches or open carts and make sure you're planning around those busy times you blocked off. You don't want to schedule a launch while you're trying to complete report cards. Nobody needs that kind of stress.
For each 90 day period ask yourself the following questions:
What are you launching or promoting? Do you have a course or program you're opening? Consider any products or services you offer and how you're going to market them over the next 90 days with respect to your calendar.
What affiliate products or programs do you want to promote? If you don't have a product or service of your own, you can still bring in revenue by recommending other peoples' products or services. If a business connection is launching or opening something to the world, and you want to be an affiliate for them, be sure to match their launch with your calendar.
What do you want to prep your audience for that is launching soon? Maybe you don't have something launching in this 90-day window, but you know you're going to launch in the 90 days after this. You're going to want to start prepping your audience for this upcoming launch.
Get ahead during "slow times"
I know teachers don't really have "slow" times, but there are times when you are less busy. During those times you can get ahead on tasks like content creation, social media scheduling, graphics creation… You can even write emails to send to your audience for when you know you're not going to have the time or energy to do it on your usual schedule.
When you see a week on your calendar that has some extra room in it, schedule in some time to write an extra blog post or record an extra video. And put it on the calendar because you know what will happen if you don't.
Scale back.
When things get busy, it's okay to scale back. Cut back on appointments with clients, and generally take a step back from non-essentials.
When things get busy, focus on what must be done and let the rest go. That said, working on your business is a habit you don't want to break, so try to keep a commitment to do something for your business every day, however small. Stay in touch with your community – through email or your Facebook group – so that the connection and trust you've built don't fade.
For a side hustle that works with the real life of a teacher, check out Teacher Blog Academy.