It's all well and good to know that you've got to produce quality content for your blog, podcast, or video show, but what should you create?
Whether you're just getting started or you've been creating content for years, coming up with ideas can be a feast or famine. Sometimes the ideas flow like water over Niagara Falls, other times it's like a dry creek bed with nothing but dust and dead fish.
So how can you find the spark of inspiration? Where are the good ideas?
Brainstorm
Set a timer and write down every idea for content that comes to your mind. Think of questions your audience might have, mindset issues they are facing, tools that could help them, other people they want to hear from. Don't censor yourself and don't give up when you feel like you're tapped out. As Boss Mom Dana Malstaff says, "If you don't get uncomfortable, you're just making a list." So keep writing, even if you think you've run dry.
Ask Your Audience
No one knows what your audience wants to hear from you more than your audience themselves! There are lots of ways to determine what people want to know. If you have an email list (which you should), you can send an email asking what they're struggling with, want to know more about, etc. You can also post on social media, do live Q&As on Facebook, use Instagram stories, etc.
Revisit Your Old Content
Take a look at posts or episodes you've already published and see what you can build on. This doesn't mean updating old posts – you should be doing that as an industry leader. Instead see what you can expand on with a deeper dive or a closer look. If you published a list of ideas, separate out each idea (or category) into separate posts or episodes. You can also create a more advanced version of something you've shared previously, especially as you learn more things.
Industry News
If it fits with your area of expertise, help keep your audience up with new ideas and trends by disseminating or distilling it for them. Some industries produce regular formal reports, but most people don't have time to read and digest them. Provide your audience with easy-to-absorb, actionable information on what's happening.
Current Events
Check out the news to find things that are already capturing people's attention, then connect it to your area of expertise. Some may be directly connected, others you may have to draw a few lines and connect a few dots.
Social Media Trends
Similar to current events, things that are trending on social media can be great jumping off points for your own content. Take a look at what's trending and what people are saying about it, then use your platform to give a fresh perspective or frame it in a lens that makes sense to your audience.
Competitors Work
Note: I don't really believe that we have competition so much as people whose zone of genius overlaps with our own. I think the word competition indicates a mindset of lack and fear. But, for lack of a better word…
No, you're not going to copy anyone's ideas, but your "competitors'" work can be a great source of inspiration. What are they talking about that you can go deeper on, give a fresh perspective to, or, dare I say, do better? You obviously need to present the information in a new way and with your own unique voice, but feel free to take a cue from others in your space.
Parallel Niches
Similar to competitors, you can also draw inspiration from those who work with your ideal customer in a different capacity. For example, dance teachers can be inspired by athletic trainers, physical therapists, music teachers, etc. Those in skin care might connect with those in makeup, gut health, or hair care. Think about who else your ideal customer might do business with and look to them for inspiration. Just be sure to stay true to your niche to maintain your go-to-guy/gal status.
Comments on Other People's Work
As you're looking at things other people have posted on their blogs, shared on a podcast or YouTube, scroll down the page a bit to read the comments. Oftentimes people will ask questions related to the content or about things that weren't 100% clear to them. Those comments are an indication that people are interested in that content and also identify gaps in their knowledge… that you can fill!
Google Search Autofill
We all know Google knows an eerie amount about us, and pretty much everyone else. So let's harness that knowledge and use it to help us fill our bucket of ideas. Start typing in a keyword related to your business, field of expertise, or audience and see what Google suggests. Results are based on what other people are searching for and can provide inspiration and keywords to include for SEO.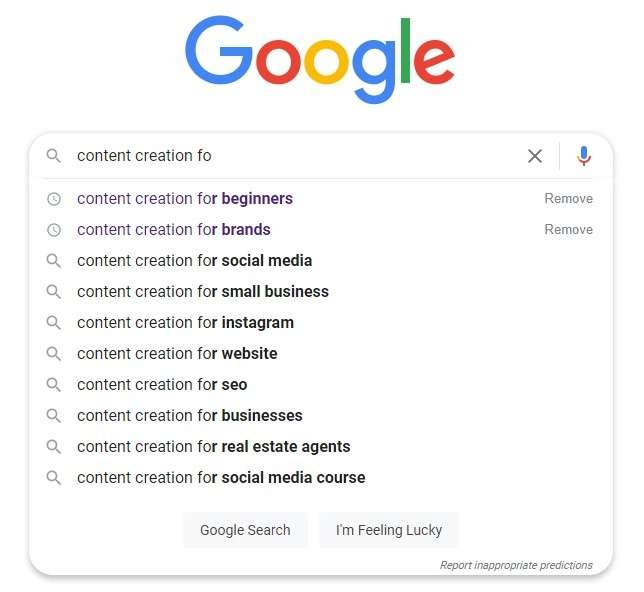 Tip: Google also tailors its search results based on your web activity, so use an incognito window for the most unbiased results.
Keyword Tools
Another option if you're curious about what your audience is searching for is to use a keyword analysis tool. Two that I recommend are Keywords Everywhere and Ubersuggest. Both are installed as extensions on Google Chrome and, when you search, will give you in-depth information about your search term, related search terms, and the popularity of that topic.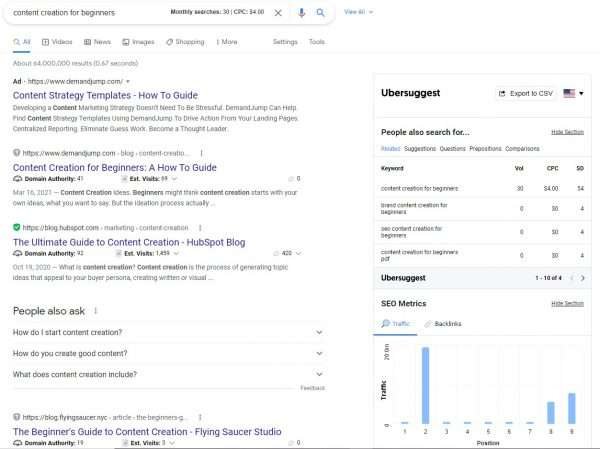 Next time you find yourself wondering what to share on your blog, podcast, or video show next, try a few of these methods for unlocking your inspiration!
Join me on Tuesday at 7:30 pm (EDT) in the Side Hustle Teachers Facebook Group for a LIVE recap, answers to your questions, and content review of a Side Hustle Teacher's blog! A replay of the video will be posted below the Friday after the live. ↓↓↓
Watch the Facebook Live replay here.