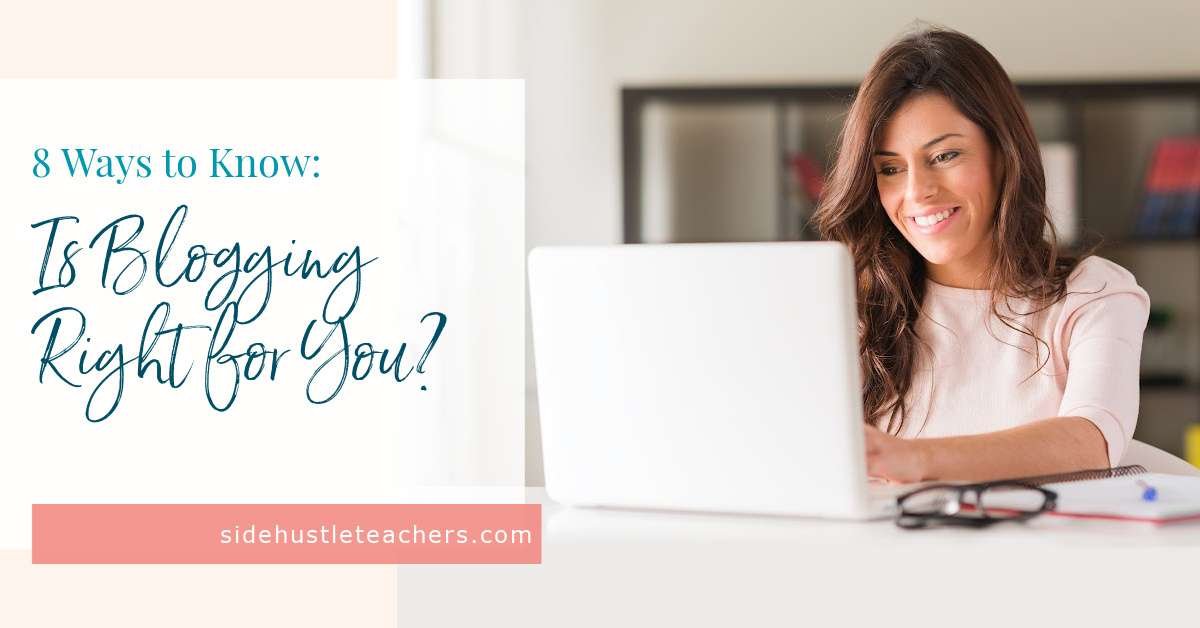 Back in 2012 I was desperate to get out of teaching and I joined a network marketing company. It did not go well. As a last ditch attempt to save my failing business, I started a blog.
Well, my blog didn't save my direct sales business – that's a story for another day – but it saved me.
My blog allowed me to see that I could make money without feeling icky, that I could be successful at something other than teaching, and it was fun!
Side note: I have nothing against network marketing. Done right, it can be a fantastic way to make money. I chose the wrong company, followed outdated advice… I basically did everything wrong. That's on me. If you're in direct sales and want to know how to succeed in a sustainable way, I recommend you check out Brenda Ster of Elite Suite. She not only knows her stuff, she's working with multi-level marketing companies directly to help establish better training and boost the perception of the industry.
But I digress.
At first my blog posts were just for me. They were a way to share my family's adventures with our far-flung relatives. Then something cool happened. Someone I wasn't related to read one of my posts, they commented on it, and shared it.
It was an amazing moment.
That was my first light-bulb moment; I could help people I didn't even know through my blog!
Okay, that may seem obvious to you, but to me it was an epiphany.
I started writing for a broader audience, and my readership continued to grow. Slowly. Very. Very. Slowly.
Right after Thanksgiving I learned how to put ads on my site. And in December of 2012 I made $2.11.
You might pooh-pooh that number, but I was ecstatic. Because I knew that if I could make $2, I could make more.
And so, my first profitable business was born.
Today I teach educators how to start their own blogs in order to earn passive income, support sales of their products or services, and impact a larger community.
I truly believe that blogging is a fantastic way to make money and that any teacher can do it. But just because you can make money doing something, doesn't mean it's right for you.
So if you're thinking of starting a blog to your existing business – or as the foundation of your future business – here are 8 signs that blogging might be a good fit for you.
You love to write. No matter what you want to blog about, even photography, you'll have to write… a lot. If that sounds like a drag, you probably want to find another way to build authority. Blogging is writing. Period. And though the writing style in blogs is more conversational (allowing you to get away with things like starting a sentence with "And"), you'll still need a solid grasp of grammar, spelling, and structure.
You can use a tool like Grammarly if you need some support for your grammar game.
You're self motivated. As a blogger you won't have a boss telling you what to do, a schedule to keep to, or colleagues to collaborate with. This can be a total blessing if you're a self-motivated person who loves what they're doing. If not, you're going to struggle to meet (or set) deadlines and publish posts, which is going to make it difficult to gain loyal readers. On the plus side, you can set your own schedule, work during your most productive time, and have the flexibility to live your life.
You are open to learning new things. Blogging is more than just writing. If you want to make money blogging you're going to have to learn more than you probably think (speaking from my own experience). You may have to tweak your writing style, or learn about blogging in general. You may have to learn about plugins, SEO, and social media.
That doesn't mean you shouldn't get started, just go into it with the understanding that there's going to be a learning curve. Personally, one of my favorite things about being a business owner is getting to learn about something that's not classroom related. I love to learn, but my professional development was getting stagnant. This is just one of the ways my blog saved me as a teacher.
You have something to say. A blog has to be about something. Anything, really. Whatever you're passionate about, there will be other people who share that passion. Think about what you love to talk about, what you're really good at, things for which other people come to you for advice.
Don't worry about trying to reinvent the wheel – there's plenty of room on the internet for you – even if someone else is writing about the same subject, only you can write about it from your perspective. Once you define your niche, your people will find you.
You are willing to dedicate time to blogging. No matter how frequently you're going to post, you're going to need to set aside time for blogging. You must proactively schedule time to brainstorm, plan, write, edit, and create your graphics. If you're trying to blog in your "free time" you're never going to get it done. You must make time for your blog.
This means you need to tell your family that from when to when you're going to be working on your blog. Write it on the calendar and make that time sacrosanct. If you let people encroach on your time in the beginning, you will have trouble setting that boundary forever.
Pro-tip: Don't let the fact that you're "pre-revenue" (as they say on Shark Tank) make you feel bad about taking time to work on your blog. You don't get from pre-revenue to revenue without putting in the work.
You're willing to make mistakes. And learn from them. Like anything else, you're going to make mistakes as you learn. You must be willing to accept your mistakes, figure out what went wrong, and adjust. You're going to have to redo things you've written, redesign your site, and even delete posts you love because they just don't fit. It's going to be hard and you're going to stumble, but every mistake is a chance to get better.
This aspect of being an entrepreneur has also made me a better teacher. Nothing helps you sympathize with struggling students like crying at 2 am because you broke your site.
You'd do it for free. Truthfully, you will do it for free for a while, and you may even be in the red for a while. It takes a while to build up an audience and start to turn a profit. At first you'll feel like you're talking to yourself. Then you'll get a few loyal readers, then a few more, and a few more. It will take time, but people will come.
As I said above, there will be people – maybe a spouse, a friend, or a family member – who pester you about spending time and money on your blog when it's not earning money yet. You might even be one of those people. But your blog is an investment in your future. I never suggest going into debt for your business – one of the best things about blogs is that it doesn't require a huge financial investment – but there is typically going to be an upfront cost.
You love to write. Yes, this is on the list twice because this is the beginning and the end. Nothing else matters if you don't enjoy writing. When I put my daughter to bed, all I want to do is work on my blog. On my lunch break at school, I'll edit and revise a post. When I'm doing chores and running errands, I'm thinking about and looking for things to write about. I love to write.
Of course, years ago, if you'd told me I was going to be a blogger, I'd have laughed at you. The fact is I never thought of myself as a writer until just recently. It's something that evolved as I worked my way through building my business.
If you're considering starting a blog, don't let the fact that you're not a "writer" stop you. Just start writing!
Ready to jump into your blog? Grab my FREE guide, 5 Steps to Start Your Blog Today!