As a teacher, you may be sick of hearing about data. But as a blogger and business owner, you can't ignore the numbers.
If you want to know if your efforts are paying off, you need to track your numbers.
If you want to know what people are responding to, you need to track your numbers.
If you want help determining where to reinforce your efforts, you need to track your numbers.
You know this.
The good news is that, thanks to Google Analytics, gathering data for your blog is much easier than it is in your classroom. You can literally just log in and find out what you need to know!
If you've not set up your Google Analytics account, you can find the instructions on how to do so here.
Once you set up your account, Google will track your site's activity and you can check on it at any time. It's a beautiful thing!
The not so good news is that Google Analytics gives you a ton of data, and it can be overwhelming.
So let's dig into the numbers you really need to know to track your progress.
What Are Key Performance Indicators?
Key Performance Indicators (KPIs) are the data points that are going to help you evaluate whether your blog is growing in the way you want it to.
Over time, these KPIs will also help you identify trends, like whether or not it's normal for your traffic to drop after Christmas, or that your bounce rate drops when you include at least 3 internal links in your posts.
This knowledge will give you insight, inspiration, and peace of mind when you're going through the ups and downs of blogging.
Page Views
Your page views represent the total number of pages people have viewed on your blog. This is a great number to know as a basic overview of your site's performance.
Page views are tallied each time someone views a page on your site. So if a visitor reads a blog post, follows an internal link to another blog post, then clicks to go to a page to sign up for your freebie, that would count as 3 page views.
Another data point you can look at are Sessions, which is counted as a single visit, regardless of how many pages the reader views. The example above would be 1 session.
There's also Users, which counts the number of unique visitors to your site. The example above would be a single user, and if they returned to your site on another day, it wouldn't add another user to your count.
Generally speaking, you want your page views to go up, but don't obsess over them. Your readership is going to have natural peaks and valleys. For example, a health and wellness blog might see a big jump in page views around the first of the year, but November might be a bit of a lull. As long as the numbers are trending up over time, it's all good.
Pages Per Session
To calculate this number Google takes the total number of page views and divides it by the number of sessions over the same time period. The higher this number is, the more your readers are interacting with your site. Shopping sites tend to have higher average pages per session because people click around looking at different items. Sites that attract more cold traffic, like blogs, have lower pages per session.
To increase this indicator provide more opportunities for readers to click to other content on your blog. You might add more internal links to your posts, add a stronger call to action, use a related posts plugin, or add a sidebar that entices readers to click on your opt-ins.
Bounce Rate
Your bounce rate is the percentage of sessions that include a single page. It indicates that people are coming to your site for whatever content drew them there, but are not engaging past that post.
Of all your KPIs, this is the number you want to see decrease. A lower bounce rate means more people are sticking around and clicking through your site.
Like above, to improve this focus on encouraging your readers to do something or click somewhere in each of your posts.
Inbound Traffic Sources
Your blog can get traffic (visitors) from lots of different sources. In Analytics, Google breaks it down into 6 basic categories in the Acquisition Overview:
Direct: people who click on a link in an email or just type in your web address
Referral: people who find you through a link on someone else's website
Organic Search: anyone who finds you through entering a search term in Google, Bing, Yahoo!, etc.
Organic Social: those who get to your page via any social media network
Organic Video: people who find you through YouTube and click over to your site
Unassigned: anyone who finds you in a way that doesn't fit one of the other categories
But here's a little tip; In the bottom left corner of this page is a box called Sessions. This box will show you where your traffic came from based on the 6 default categories. But… you can choose to dig a little deeper.
The graphic below shows the Sessions box with the default categories (on the left) and by session source (on the right). I prefer to look at the session source because it tells me exactly where my visitors are coming from.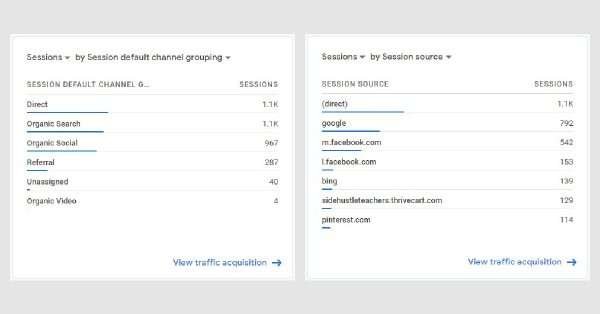 My focuses for acquiring new traffic are email and Facebook. This information confirms that my efforts are paying off. You can see that direct traffic tops my report, and Facebook (mobile and standard) make up another large chunk. I can also see that my SEO game is on point because I'm getting a very nice amount of traffic via Google.
I could also use information about my inbound traffic to determine if a new campaign is working or not. For example, if I had just implemented a new Instagram strategy I'd be pretty disappointed because I have literally no traffic from Instagram. I could then decide to revamp my efforts or just stick with what I can see is already working.
Top Posts and Pages
This KPI tells you what your most popular posts and pages were over the selected time period, based on page views.
Beyond just feeling good about yourself, there are some big benefits to knowing what posts are driving your blog traffic.
First, once you know what type of posts your readers are engaging with most, you can create more of this content. Write a part 2 or follow to that post, or just craft more posts geared to that specific segment of your audience. (This may be part of niching down even further.)
This data can also help you decide which older posts to promote in your email newsletter or on social media. If it's something your audience has already told you they liked through high engagement or page views, it can't hurt to put it out there again. Since you originally published the post you've likely gained new followers, and there's a better than decent chance not everyone in your audience didn't see it the first time you shared it.
Finally, once you know which posts are your top performers, you can take a bit of time to optimize them. Make sure those posts have lots of internal links in them (we talked about this in the previous post 17 Essential Dos & Don'ts to Get More Traffic to Your Blog), have a really strong call to action, and that you've checked that these posts are well formatted for mobile.
New Email Subscribers
This is the only metric that you won't find in Google Analytics. Instead, you need to go to your email service provider (I use ConvertKit), to see how many subscribers you've gained in the month.
As I mentioned above, my email list is one of my best, and most consistent marketing channels. In order to get the most value from it I need to make sure it's continually growing, with new people being added.
Here's what my report looks like for the last 5 weeks.
It's important to note here, that when you check this report you're also going to see the number of people who are unsubscribing from your list.In the image here they're shown in light gray.
Don't get discouraged by unsubscribes. As long as over time you're gaining more subscribers than you're losing, it's all good.
New subscribers are a good indication that your opt-in is connecting with your audience. If you want this number to go up faster, there are some things you can do.
While you might be tempted to scrap your current opt-in and create a new one, first play around with your call to action, and the placement of your opt-ins. You might even want to try a pop-up if you don't have one. Yes, they're annoying, but they work! (I use OptinMonster, which you can try here.)
Once you know the KPIs you want to track, set a date in your calendar every month to review them. You can make a spreadsheet to record month over month, or just write it in a notebook. You don't need a complicated system, especially at first.
Instead, simply make an appointment with yourself once a month to review your numbers and don't be afraid of them. They're just numbers. They're indicators of your blog's growth, not it's success or failure (or yours). Just like your students' standardized test scores or the number you see when you step on the scale, it's just data you can use to continue to grow.
And what's the most important thing when it comes to growing your blog? Consistently putting out great content. Now you can enroll in the 5-Day Content Challenge and never be stuck for what to write about. Click here to enroll for free!