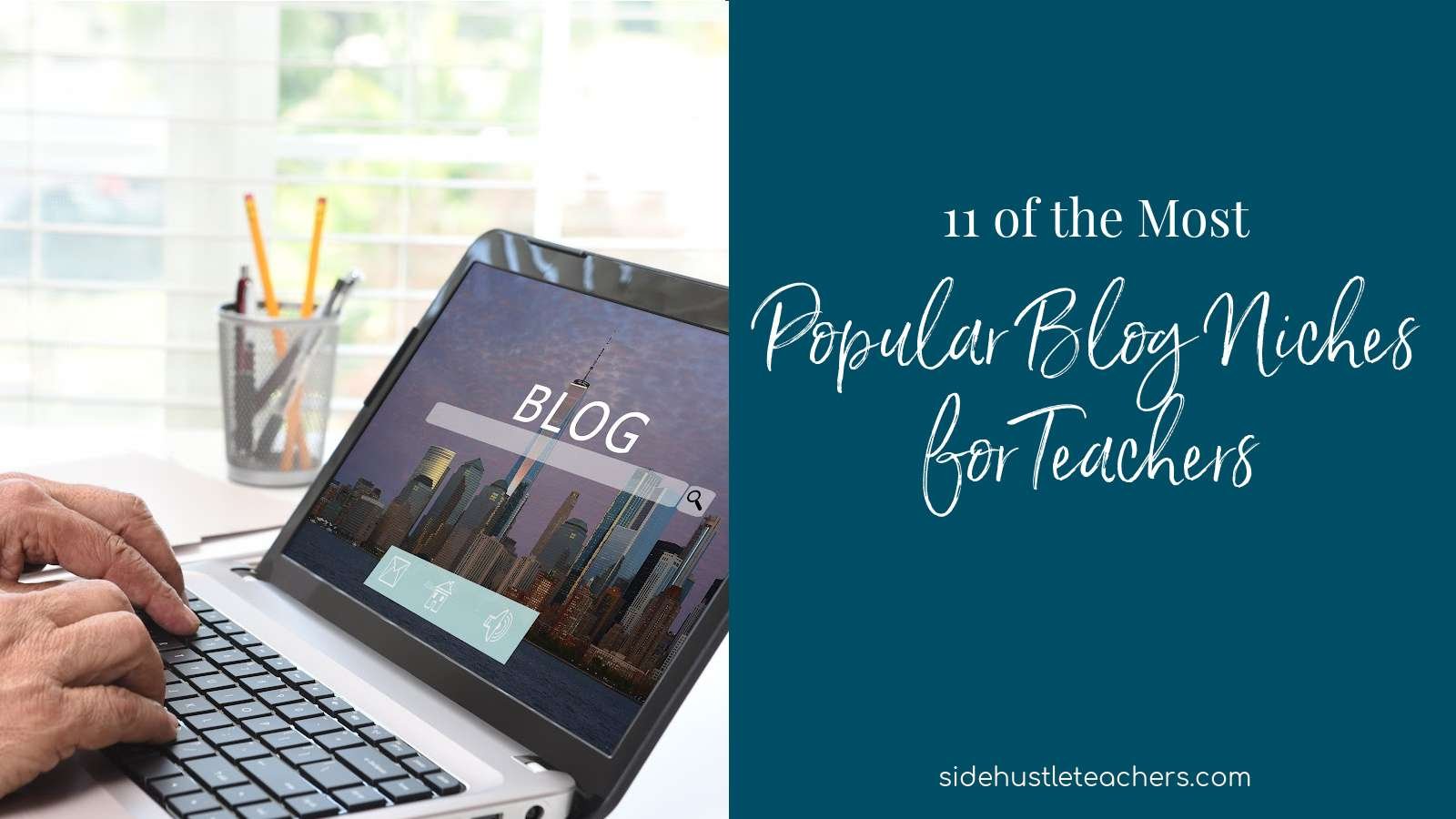 What should my blog be about?
That's one of the first questions you have to answer when starting your journey into blogging. And it's one that many people get stuck on.
Of course, your blog niche can be literally anything. The only limit is your imagination. But this can be a little intimidating, right?
Anything seems like a lot to choose from.
So today we're going to talk about the 11 most popular blog niches for teachers.
This list is by no means exhaustive, and there's no rule that you have to choose one of these niches. But… they're popular for a reason. They include topics that teachers know and feel comfortable writing about and people want to read about. You can also mix and match, pairing a couple of different niches together.
Let's dig in!
Education
Is it any surprise that we're starting with education? While teachers can certainly write about anything, classroom-related topics are very popular. It makes sense – people write what they know.
Among the popular education niches are classroom environment and management, subject- or grade-specific lessons, or educational technology.
While this is a popular blog niche, keep reading. Writing about teaching and learning isn't always a great idea.
Food
Your choices when it comes to food blogs are as varied as the menu at a 24-hour diner. You can share recipes, reviews, gadgets and gizmos… or a multitude of other ideas.
If considering a food blog, the number one stumbling block is casting your net too wide. As food blogs are one of the most common blog types on the planet, you're going to want a clearly defined niche and ideal audience to help you reach the people you want to help.
DIY or Crafts
Whether it's crochet or Cricut, blogs about DIY projects are a perennial favorite. You can use your expertise to teach others how to create adorable little gifts or build a log cabin like Lincoln did.
Teachers are well suited for this type of blogging since we're already good at presenting steps sequentially and providing instructions.
Travel
For those who love to explore new places, a travel blog might be the perfect way to combine passion and income. While we all know teachers don't have summers "off," the break does afford us the opportunity to work from anywhere.
Specialize in one area of the world, like the Mediterranean, or a type of travel, like luxury or budget, and share your adventures with others!
Health and Fitness
For those who are interested in personal well-being, there will always be an audience. Health and fitness can include anything from workout routines to naturopathic practices to mental health.
You can share tried and true practices or make your own journey the basis for your blog.
Lifestyle
A lifestyle blog is often used as a catch-all term for blogs that cover a variety of topics. They're usually unified around a theme, which may or may be one of the other popular blog niches. For example, a lifestyle blog about sustainable living may encompass cooking using food you grow yourself, and upcycling furniture.
Those who write lifestyle blogs need to be really clear on who you're writing for so as not to go too broad with your topics.
Parenting
The parenting space is popular for a reason – having kids is hard! Parents can share stories from the trenches, tips and tricks to make life easier, and everything in between. Bloggers can focus on age groups, gender parenting, or parenting within a specific lifestyle, and there are lots of paths to monetization.
Business
Since the internet became an easily accessible way to make money, people have been writing about how to make money. These blogs can be written in the style of traditional money magazines or in a more instructional manner. Review business trends and best practices, or teach people how to make money.
Personal Finance
Similar to business blogs, personal finance helps people who are looking to manage or grow their personal wealth through investing, saving, and other financial systems. Actionable tips are especially popular in this space because people who read these blogs are looking for practical tips they can put to use.
Religion
More than 80% of people on the planet participate in an organized religion, so it's no surprise that spiritual blogs are a popular choice. Bloggers in this niche can share personal stories, as well as inspiration, and practical ideas for practicing your chosen religion in the modern day
Religion-based blogs are often focused on a specific audience, like parents, married people, or Gen-Z folks, narrowing their focus.
Personal
A personal blog is one where you share your own stories to form connections or inspire others. These blogs may read more like a diary than a typical blog and generally creates a brand around the blogger rather than a specific topic.
Personal bloggers still need to thoughtfully curate stories that serve the goal of the blog and the needs of the audience.
Before we wrap things up, let's talk about the elephant in the room.
These blog niches are popular, and that means there are already blogs out there that cover these topics.
Does that mean you need to choose something else to write about?
No!
Your unique voice and perspective is just what someone needs to feel connected, heard, and understood. You have something to contribute! Just because a conversation started before you got to the party doesn't mean that you can't add value to it.
Find a topic that lights you up, find the people that you most want to help, and you will be successful!
The Teacher Blog Academy is open for enrollment for teachers who are ready to start contributing to the conversation while growing a profitable blog. Get more information and join today at teacherblogacademy.com.