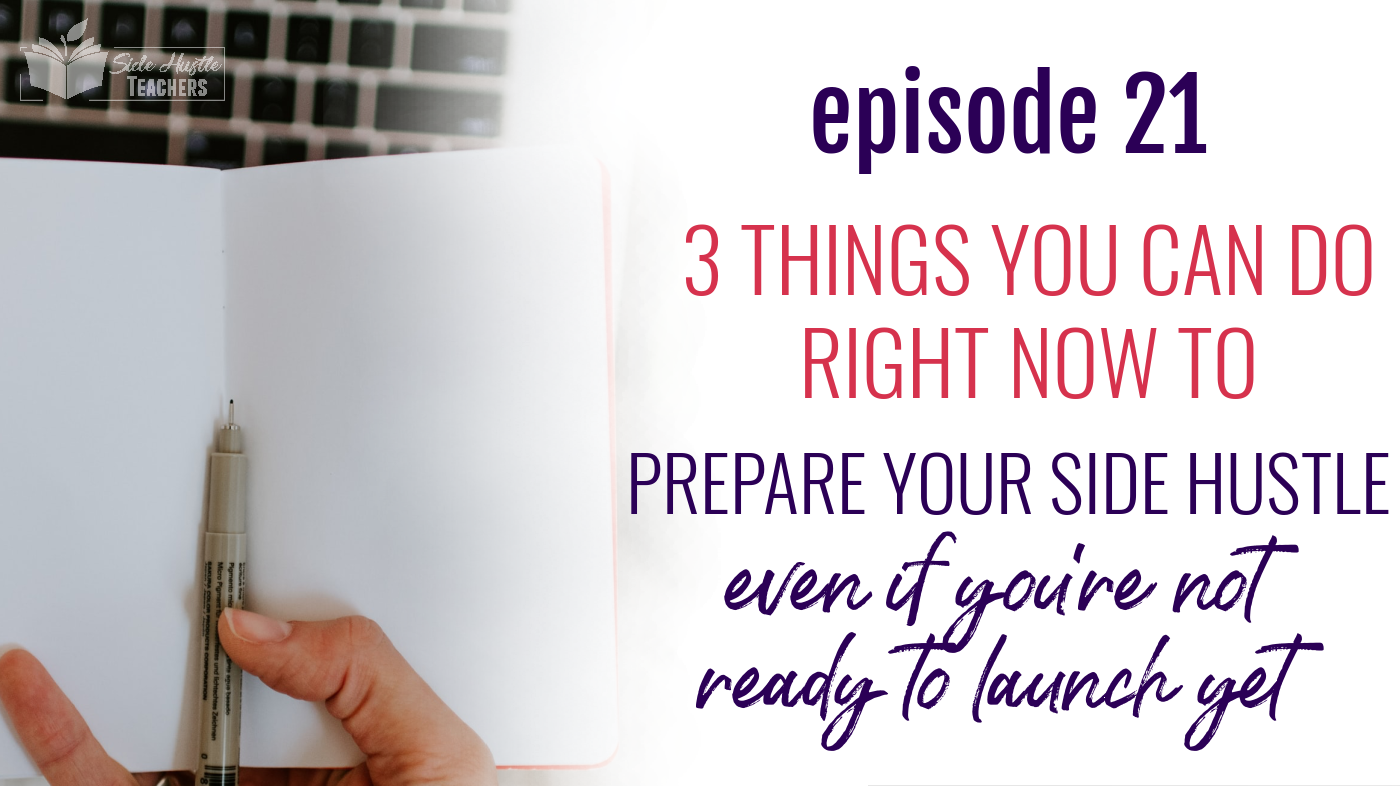 Lots of people come to Side Hustle Teachers because you like the idea of having a side hustle, but for whatever reason, you're not ready to take action. But even if you're not ready to launch your business, there are things you can do today to make it easier for yourself later.
Start tracking your time
You don't have to use a formal time tracking app or anything, just start to take notice of how you use your time.
Most of us like to stay busy, so when we have time, we fill it. Even if that means we're doing things that don't need to be done (or don't need to be done by us), we feel our days are full.
Some things to look at:
How much time are you spending on social media?
How much time are you spending on busy work?
How much time are you spending on dreaming of making your classroom Pinterest perfect?
You don't even have to make changes to your schedule. Just noticing that there are opportunities in your week to adjust how you spend your time can shift your mindset enough to get you moving.
Squirrel away some money
While it is possible to start a business with no money, it's much easier if you have at least a bit to invest.
If you're building on your own, and are willing and able to do the work yourself, I would advise having even just $100 set aside for basic expenses.
If you want to join an MLM, starting kits generally run $200-500.
If you're thinking of creating a product, the up-front investment is typically larger.
Do some market research
Ask questions.
You: What's a problem you can solve? How can you help others make their lives easier?
Friends/ Family: What's something you wish were easier? If I could make this situation less taxing/annoying/difficult, would you pay for a solution?
Strangers: I have an idea about ____, is this a problem you have, too? If I were to offer you ____, what would you expect to get with it? What would you expect to pay for it?
Dream big
Getting some of the pre-planning work out of the way clears a path for you to begin to see your dream as possible.
Edupreneur Academy is a monthly membership for educators looking to start or grow a side hustle while still being the boss in the classroom. At just $19 a month Edupreneur Academy is the perfect option to help teachers build build a business on their own terms. Learn more or join now at https://sidehustleteachers.vipmembervault.com/products/courses/view/1031989
Never be stuck for what to share on your blog, podcast, or video show again! In this 5-day challenge you'll create an idea bank to keep you creating for the next 6 months… at least!
This challenge mini-course is perfect for you if you:
Have been wanting to start a blog, podcast, or video show, but don't feel confident you have enough to share.
Have a business and want to start attracting more customers by growing your audience and authority.
Already have a blog, podcast, or video show and you haven't been consistent with creating content.