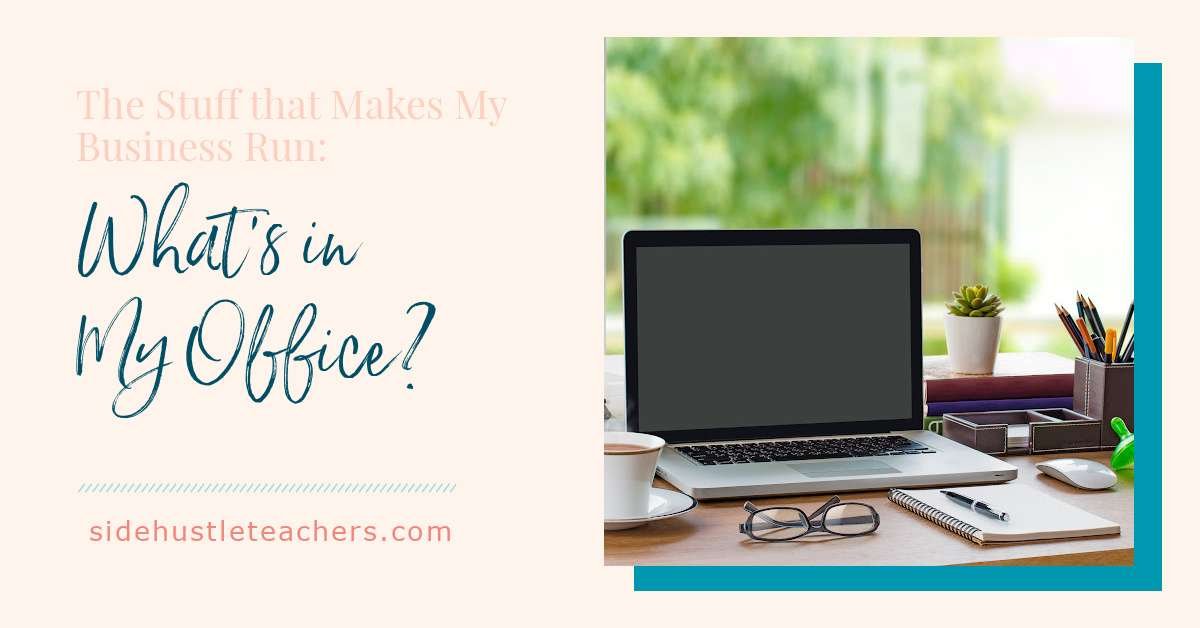 One of the great things about blogging is that it doesn't require a huge up-front investment, so just about anyone can get started. Really, all you need is a computer with an internet connection. This makes this platform extremely accessible for everyone and a great way to get started in business.
I get asked all the time what equipment I use, so today I'm going to share some of my favorite gadgets, gizmos, and tools that live in my office. Remember, I've built my office over a number of years (and used more than a few Christmas and birthday gift certificates doing so), and it's up to you to decide what's going to be most useful for where you're at.
That said, here's what's in my office. Feel free to copy my setup as much as you'd like!
Our house has enough desks in it, but I really wanted the ability to work standing up. When I get in a groove, it's so helpful to be able to change positions quickly so I can keep working without the damage that hours of sitting can cause. So this Desk Riser is one of my favorite things. It sits on top of my existing desk, and I can easily move it up and down depending on the task at hand.
I actually bought this during the pandemic when I had to teach classes at home. It allowed me to see my whole class on Zoom (does that word still give you chills, too?) on one screen, and whatever I was presenting on the other. And it's proved just as valuable in my business. There are so many times I want to be able to see more than one thing while I'm working… and now I can! I can create graphics on one screen, and pop them into a blog post on the other. I can have a script open on one screen, and my recording software on the other. It's sooooooooooo helpful!
Honestly, I'd get another screen if I could, but my husband already is slightly frightened that I'm plotting to take over the world in what he calls my command center, so I'll wait on that.
When I work in my office I want my screens to be level, so I put it up on the top level of my desk on a stand. This makes using 2 screens seamless and also keeps my tired teacher brain from getting confused as to how to get my mouse from one screen to the other. I like this particular stand, because I can tuck my keyboard under it while I'm not working so the cat doesn't walk all over it and break a key.
With my laptop mounted on a stand on the second level, it's not exactly practical to use the built-in keyboard. Instead I use this one so I can type comfortably. On a side note, I've only charged it once in over a year…
Seriously, is there anything these carts aren't good for? I use this cart for cord storage, file storage, and keeping things handy that I don't actually need a lot, like staplers and other paper-based stuff. If you don't already have one of these, you probably know someone who does.
One year I had a wall full of post-it notes up on my wall, with everything I needed to do, organized by step, and color coded. It was a thing of beauty… and then the heat came on. And one by one all my post-its began to fall. Ugh.
It was then that I realized the power of the whiteboard. I've had one ever since and it helps me keep track of everything from to-dos, to dream projects, to clients to follow up with… it's brilliant.
I know pens aren't exactly office equipment, but I love these pens so much I couldn't not share. They write soooooooo smoothly. And since it felt like I spent years searching for the perfect pens, maybe you have, too. I get them in packs of 36 and don't let anyone – my family or substitute teachers – use them.
As a podcast junkie, I decided to turn my blog into a blogcast. I write my blog post each week, then record it for the podcast. It's important to me that the sound quality be good, so I use this external microphone. I tried the Blue YETI as it comes highly recommended, but because it's a condenser mic, it picked up every noise in my house (including from other rooms), so I recommend a cardioid mic like the ATR.
I also suggest spending a couple bucks on a windscreen to block out pops and cats rubbing up against your mic.
Sometimes I want to record in my office, other times I just want to work. Having a boom arm for my mic means I can leave it set up, swing it to the side while I work, and just swing it back when I'm ready to record or go live. Saving myself the simple task of setting up a mic makes me that much more likely to get my recordings or videos done.
This is my latest office acquisition and it's quite possibly my favorite. This chair is a game changer. It's not only ergonomic, but it's made entirely of mesh material, even the seat, so there's no sweaty back or bum. This is the only chair I've ever loved. It is expensive, but they offer lots of discounts, and if you're signed up for Rakuten, you also get 2% cash back.
Confession: I don't always work in my office. In fact, I spend a lot of time on my laptop in the living room, watching tv with my husband. When I do this I use a lap desk so I can use my mouse, and also so I can keep my computer at a good level.
So there you have it. That's what's in my office (and living room). Take your time and build your office one thing at a time. Ask for stuff you want for Christmas, birthdays, housewarmings, etc. and soon you'll have the office of your dreams!