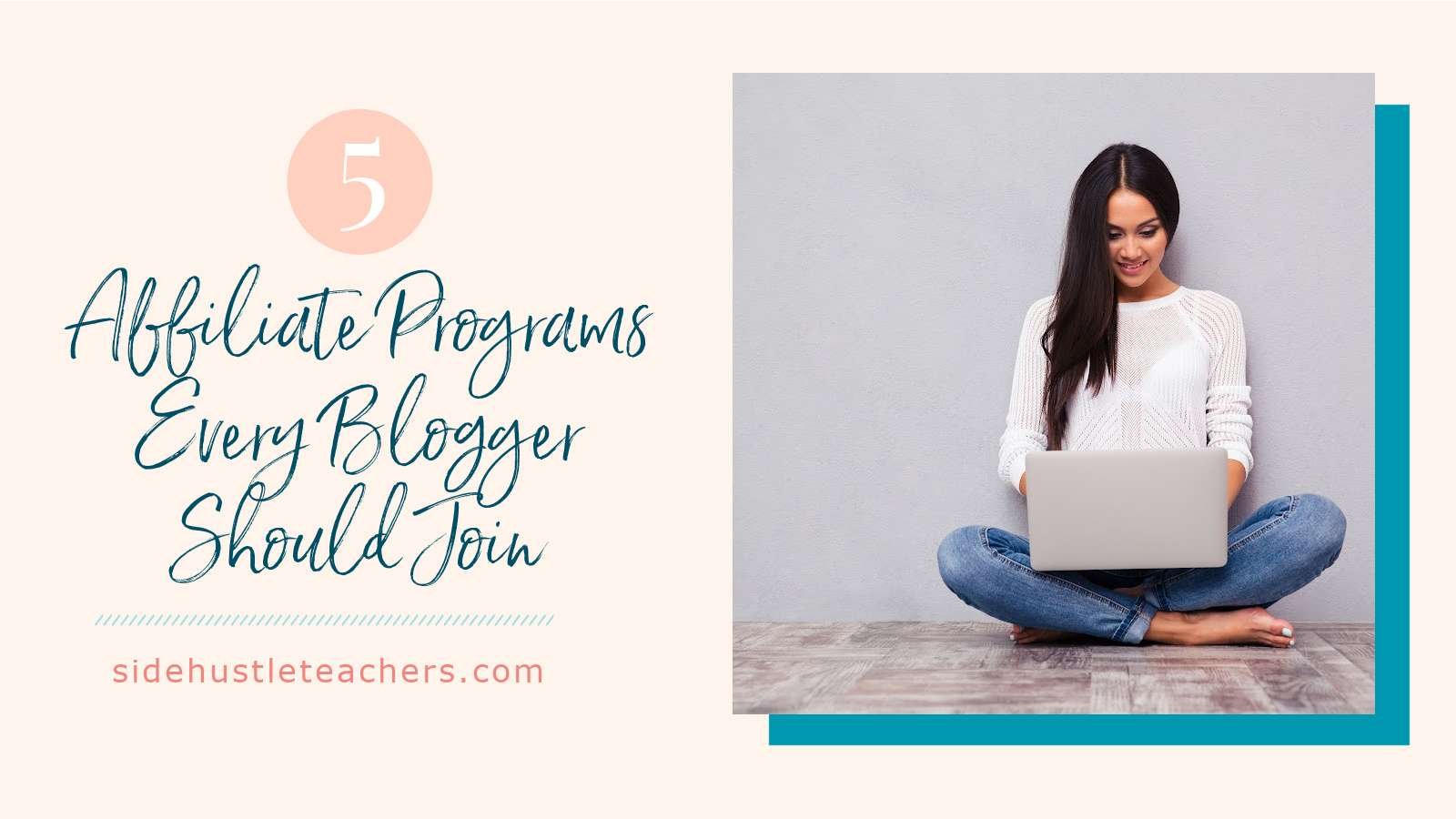 When trying to monetize a blog, affiliate marketing is one of the fastest ways to start making money from your site.
Affiliate marketing is selling other people's products or services in exchange for a commission on the sale. For more on the basics of affiliate marketing, check out this post.
As you get started with using your blog to make recommendations to others, there are a couple of terms you need to know.
Affiliate Program vs Affiliate Network
There are typically 2 types of options for affiliate marketers. Affiliate programs and affiliate networks.
An affiliate program is when a company manages its own affiliate recruitment, tracking, and payouts. Some large companies, like Amazon, do this. However, this type of affiliate marketing is more commonly used by small businesses and solopreneurs, like Side Hustle Teachers.
On the other hand, an affiliate network is a company that manages the affiliate programs for multiple organizations. The networks act as an intermediary and filter for their merchants, as well as managing all the link tracking and payouts. With networks there is often a secondary layer of applying because you will have to apply for the network, then again to each merchant within the network you'd like partner with.
So with that in mind, let's dig in to the 5 affiliate programs or networks all new bloggers should join.
1. Amazon Affiliate Program
Amazon is one of the oldest and largest affiliate programs on the web. Because Amazon is so ubiquitous in our 21st century lives, it makes sense for bloggers to join this program.
To join, simply click here and then the sign up button. If you already have an Amazon account, you can sign in using that information. If you don't, or you want to keep your personal and affiliate account separate, create a new account. Honestly, part of the benefit of using an affiliate program like Amazon is the ease of use, so I recommend using your existing account, if you have one.
Once approved, a gray bar will appear at the top of the screen when you sign into Amazon. There you can check your earnings and easily get affiliate links to share on your blog.
Amazon cookies last for 24 hours and apply to anything purchased, whether it was the product you suggested or not. So, if a reader follows a link to a $3 product, but ends up buying a $600 product, you get the affiliate commission on the entire sale. I can tell you from experience!
Pros:
Amazon sells literally billions of products, so if you want to recommend something… it's probably on Amazon

The name Amazon is well known and people feel secure buying from them

Easy, free signup
Cons:
Relatively low commission rates

Bank or check payouts only, no PayPal

Short cookie life of 24 hours
2. ShareASale Affiliate Program
ShareASale is an affiliate network with more than 16,000 merchants that you can recommend to your readers, and it's wildly popular among bloggers.
To join, click here to create an account. Follow the steps provided and then search for merchants you'd like to promote. ShareASale tends to work with small-to-medium businesses, so while you won't find Fortune 500 companies on this platform, there are lots of smaller, highly niched merchants to choose from.
Once accepted, you will need to search ShareASale's database and apply separately for each merchant you want to be an affiliate for.
Pros:
High acceptance rate for merchants

Detailed analytics on each merchant on the platform

Great user support for those just getting started
Cons:
Payout threshold of $50 means it takes longer to get paid

Limited links available for each merchant
3. Impact Affiliate Program
Like ShareASale, Impact is an affiliate network that was formed by former employees of other affiliate networks, and is quickly becoming a favorite for anyone looking to get started in affiliate marketing.
To join, click here. The process to join takes a bit longer than it does on other platforms, but once you're in, getting accepted to a merchant's affiliate program is less cumbersome.
Impact, formerly called Impact Radius, includes many large companies like Best Buy and Home Depot, which is great for building trust with potential buyers.
Again, since Impact is an affiliate network, you will need to apply separately for each merchant. When you first join, you may not be eligible to apply for larger merchants, but as you earn commissions, more will open up.
Pros:
Many large companies work with Impact

$25 payout threshold so you get paid faster

Excellent reporting and analytics to track your progress
Cons:
Many of the larger, more well known merchants are not available to new affiliates

Platform navigation is not intuitive
4. Commission Junction Affiliate Program
Also known as CJ Affiliate, Commission Junction is another well-established affiliate network that can connect bloggers to numerous companies and products.
To join, click here and select "publisher" to let CJ Affiliates know you are a blogger. The application process is relatively straight-forward, however, to become an affiliate (or publisher) you have to apply for each merchant's (advertiser) program separately.
CJ makes it easy to find companies that are related to your business by allowing you to search by niche, keyword, or specific business name. When you find a company you'd like to work with, complete their application process. Some will respond instantly, some review each application manually, so it takes a few days, others will never respond.
Pros:
Well-known, trusted companies are part of CJ Affiliates

They serve just about every niche
Cons:
You have to apply for each company's affiliate program separately, and some are quick tricky to get into

Accounts can be cut off for low or no sales

Difficult to track payouts for each advertiser
5. Your Personal Choice
I know, I know. Insert eyeroll, here, right? But the fact is, the most successful way to make money from any affiliate program is to recommend products or services that are highly specific to your niche and something you use and recommend.
To find these programs think about what you use to make life easier, automate tasks, make life more enjoyable, or that are must haves for people in your niche.
Go to the websites of those products or services you want to recommend and scroll all the way down to the footer. If they offer a public affiliate program, there will likely be a link to click and register. (This link will often lead to a larger affiliate network, like those we've already discussed… but not always.)
If there's no affiliate program available on their website, and it's a product or service you know you want to recommend, reach out to the company or entrepreneur directly and ask. Tell them you love what they do and recommend it to everyone you know. Mention you're starting a blog and would love to partner together to promote their product/service.
Pros:
Highly niched affiliate programs are less likely to have major competition

Your audience is primed to buy these products or services, so sales are often stronger than more general products

Working with smaller businesses can often lead to other business partnerships
Cons:
Not everyone you ask is going to be open to an affiliate relationship

Private agreements can be harder to track

You're responsible for your own contracts, terms, etc.
Putting it All Together
There are a gajillion affiliate marketing options out there, and honestly, you can't really go wrong with any of them. In fact, I suggest you join multiple affiliate programs and networks as you learn about how it works.
You will find that some merchants work with more than one network and then you can decide which network fits your goals best.
3 Final Tips:
When you join an affiliate network take the time to fill in your profile completely. This will give you the best chance of being accepted to merchants you apply to and help merchants find and reach out to you.

Only recommend products or services you truly find useful. Your audience needs to trust that when you tell them to invest in something, it's going to be good. Once that trust is broken, it's hard to get it back.

Always disclose that you're an affiliate. This includes affiliate links you share on your blog, in emails, and on social media.
Ready to take the next step? Get started with my new free mini-course, the 5-Day Content Challenge. Come up with 6 months worth of post ideas to share your affiliate links in just 20-minutes a day! Enroll for free here!