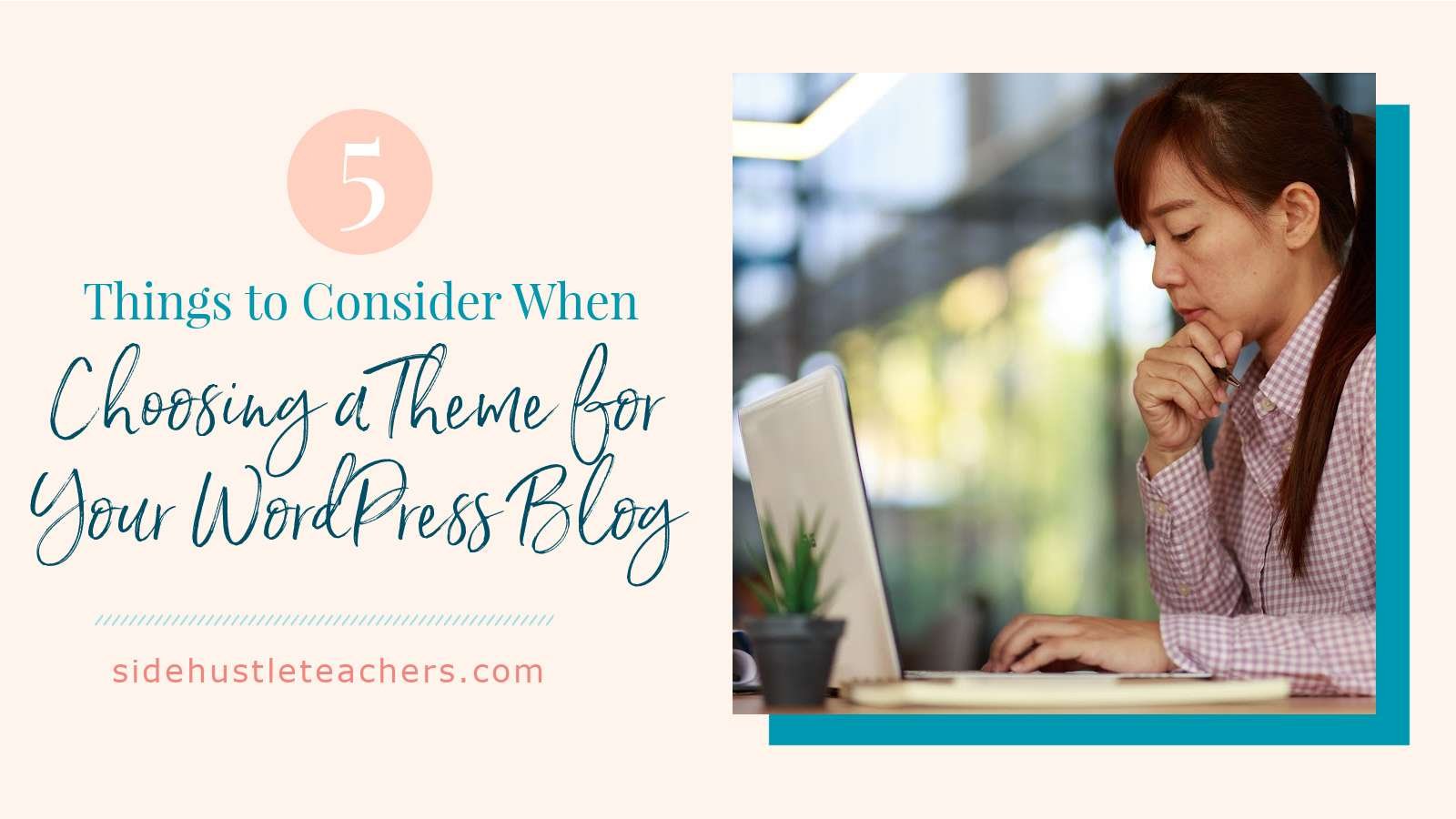 After you've defined your niche, named your blog, and obtained hosting for your new website, you have to choose a theme. Contrary to what you might think, a theme is not the topic of your blog – that falls under the umbrella of your niche. In this case a theme is the frontend design of your site, what it looks like to your audience.
It's easy to get overwhelmed when choosing a theme because there are literally thousands to choose from, at all prices, from free to several thousand dollars. And like just about anything out there, there are some that are crap, and some that are fantastic.
If you're going to make money from your blog – and isn't that the goal? – I suggest you invest in a premium theme. They are relatively cheap and can make your life as a blogger much, much easier.
At the end of this post you'll find suggestions for premium themes I recommend for new bloggers. However, all the ideas I share today are equally applicable to free themes. You just have to do the research to find out which ones might work for you.
Let's dive in!
What is a WordPressTheme?
Last week we talked about choosing a host for your website, and related your host to the property on which you're going to build your blog home. If we continue that, then you can think of the theme you use as the floor plan you choose for your home.
Your theme is the layout of your blog and determines the basic structure of your website.
As a home buyer, if you're someone who likes to entertain, you'd choose a floor plan that's good for parties. If you're a blogger, you want to choose a theme that focuses on readability. If you're going to sell from your website, you'd want one that offers e-commerce. And so on.
Also like home plans, to extend this metaphor a bit longer, you can find themes that are highly streamlined, and those that offer tons of bells and whistles.
While fancy options like complex layouts, eye-catching animations, and lots of colors are available, I suggest beginners start simple and add features as needed.
So what do you need to consider when choosing a theme for your blog?
1. Weight
When it comes to websites, load time is a big deal. If you choose a bulky theme with lots of added plugins and extra stuff, it's going to slow down your load time and impact your user experience.
If your website doesn't load quickly, then your readers will get frustrated, hit the back button, and probably never return. (Sorry for the doom and gloom, but we are an instant society and your website needs to reflect that.)
2. Mobile Friendly
Another must in the 21st century, your WordPress theme must be responsive for people who are reading your blog on their phones.
At Side Hustle Teachers, 48% of our readers are on tablets or smartphones.
A mobile friendly or responsive theme will automatically adjust pages and posts for whichever device your audience is using. This means that elements of your page will be shifted to accommodate narrower screens, making a better user experience all around.
Given that more and more page visitors are on devices other than a laptop or desktop computer, this is an absolute essential feature of any blog theme.
3. Plugin Compatible
A plugin is a small piece of software or code that can be added to another to enhance its capabilities. For example, I recommend my students use the Akismet plugin to block spam comments on their blog posts and the Yoast plugin to manage their SEO (search engine optimization). These bits of code make running your blog easier and provide a better experience for users.
Because themes are available from pretty much anyone with any coding skills, regardless of their blog savvy, you will want to make sure that the theme you choose is compatible with plugins you want to use.
4. Easy to Use
Themes can be built using lots of different systems, many of which are proprietary. Themes with proprietary systems, like builders, are often the easiest to use and customize.
A builder is a website creation tool that lets you drag and drop site elements, like images, text boxes, and signup forms, into a page or post without having to code. This makes it infinitely easier to make your website look just how you want them to.
Another feature of builders is the availability of templates that you can use and customize for your own site.
5. Customer Service
No matter how user friendly a theme is, strong customer service is essential for any company you choose to work with. Elegant Themes, the company that created Divi, my WordPress theme, not only has 24/7 customer support, but also an online community where users can ask and answer questions about how to make the most of the platform.
As a side hustler who is often working on my website after traditional business hours, 24/7 service is a non-negotiable.
What Do I Recommend?
The theme I use on all my websites is Divi, by Elegant Themes. I started my first blog with a free theme, but quickly learned that you get what you pay for. It worked, but anything I wanted to do to make it look or function better required me to learn coding to do it. Ummmm, no.
Divi has a proprietary builder (the aptly named Divi Builder), a social media plugin, and an email optin, as well as a magazine style theme included. It's compatible with all reputable plugins, and it's got a fantastic customer support system.
Additionally, when I create pages or posts in Divi I can preview and adjust them for tablets and mobile. And I can install this theme on as many websites as I want for no extra charge. There's a reason it's the most popular WordPress theme in the world.
Divi is $89 per year, with an option to purchase a lifetime license for $249
Other themes that have excellent reputations and customer reviews are:
Elementor

– $49/year for a single site

Astra

– $49/year, no builder function (but compatible with Elementor and Beaver Builder)

Ocean WP

– $43/year, plus optional upgrades, no builder function
Like most things in your business, deciding on which theme to use for your WordPress website is something you should give serious thought to. It's an important decision.
However, it's also important to continue making forward motion in your business. Don't overthink it. Just make a decision and go with it.
For next steps, click here to get my free guide, 5 Steps to Start Your Blog Today. In it I walk you through the tech of setting up your blog's website, including how to install your new theme!